Commentary
Ear to the glass: Take your best shot
Craig Anderson has seen more shots than any goalie, and he doesn't mind one bit
Updated:
October 30, 2009, 2:42 PM ET
By
Lindsay Berra
| ESPN The Magazine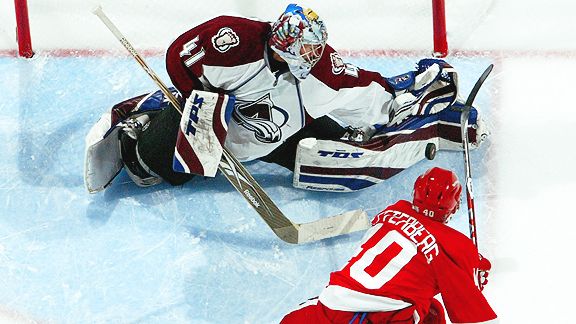 Dave Reginek/NHLI/Getty ImagesShooters have kept Craig Anderson under siege, but the keeper has almost always left them stymied.
No team in the NHL has given up more shots on goal than the Colorado Avalanche, which makes goaltender Craig Anderson one very busy guy. This season, Anderson has played nine games in which he's faced over 30 shots. He's seen 35 five times, and in two games, he's endured over 40, with a high of 49 shots in an Oct. 24, 3-1 victory over the Detroit Red Wings. But Anderson doesn't seem to mind the perpetual peppering.
"Seeing a lot of shots gives you the opportunity to not think at all," Anderson says. "It takes your mind off the game, which is a good thing. It allows you to just react."
And Anderson reacts well. In fact, the more shots he faces, the better he plays. According to the Elias Sports Bureau, Anderson has faced 40 or more shots 21 times in his career, with a record of 14-2-5. His record when he faces fewer than 40 shots is only 30-42-10. "When you get up to 35, 40 and 45 shots, the amount of scoring chances naturally goes up," Anderson says. "But our D does a good job of keeping the shots to the outside and allowing me to see the puck. If I can see it, it doesn't matter if it's the first chance of the game or the 40th, I can usually stop it."
To see what an opposing goaltending coach thinks of Anderson's hot start and why the Avs should immediately amend their shots-against trend, you must be an ESPN Insider.
Insider
Lindsay Berra is an avid CrossFitter and a national correspondent for MLB.com. Follow her on twitter @lindsayberra.
Ear to the Glass

Do you hear what we hear?
ESPN The Magazine senior writer Lindsay Berra takes readers over the boards and onto the ice every Friday to pick players' brains about the varied and stirring storylines that comprise life in the NHL.
Berra has covered everything from tennis and baseball to snowboarding and roller derby since joining the staff in 1999. But she's played hockey since she was a kid, and her main beat at the Mag has always been the NHL.
She's dropped gloves with Donald Brashear and P.J. Stock, been to Zamboni school, shamelessly hooked Wayne Gretzky and Paul Coffey and covered hundreds of hockey games, including 10 Stanley Cups. She even shed a tear in the press box when Ray Bourque won his first and only Cup with the Avalanche in 2001, despite her beloved Devils coming up on the losing end. She's also a Jersey girl, a Tar Heel, a triathlete and a yogi.
October
November
December
MOST SENT STORIES ON ESPN.COM