Commentary
Ear to the glass: a 'slap happy' bond
A master passes on his secrets as Erik Johnson learns the shot-pass
Updated:
October 23, 2009, 3:53 PM ET
By
Lindsay Berra
| ESPN The Magazine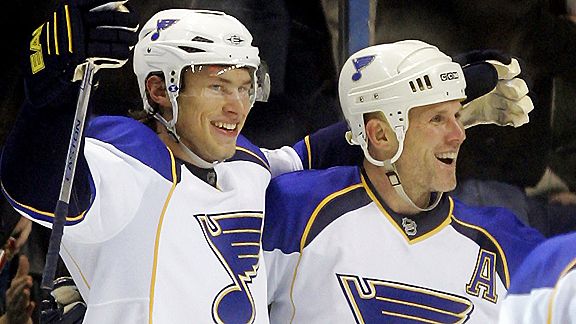 AP Photo/Jeff RobersonThe lessons learned by Erik Johnson (left) have greatly benefited Keith Tkachuk's goal totals.
Blues defenseman Erik Johnson had the luxury of living with Hall of Fame defenseman turned V.P. of Hockey Ops Al MacInnis as a rookie with St. Louis in 2007-08.
Yes, this involved playing more ball hockey than Johnson ever could have imagined with MacInnis' four kids, and driving them to the odd hockey practice when MacInnis was otherwise engaged. But it also meant a year of tutelage under one of the greatest defensemen to ever lace 'em up.
The most important lesson Johnson learned? "Shoot," says Johnson. "Whenever you can, shoot. Al says, I don't care if you hit someone because if you hit him, you're probably going to hurt him. And that's just as good as scoring, especially if it's their good players."
While MacInnis is legendary in the NHL for his slap shot -- winning the hardest shot competition seven times -- Johnson also was able to mine his landlord's knowledge for a lesser-known, but also devastating, skill from the point: the underutilized art of the shot-pass, which can catch defenses off-guard when launched by a defenseman with a powerful shot.
To see what else Johnson has picked up from MacInnis and why Keith Tkachuk believes Johnson is the Blues' best player, you must be an ESPN Insider.
Insider
Lindsay Berra is an avid CrossFitter and a national correspondent for MLB.com. Follow her on twitter @lindsayberra.
Ear to the Glass

Do you hear what we hear?
ESPN The Magazine senior writer Lindsay Berra takes readers over the boards and onto the ice every Friday to pick players' brains about the varied and stirring storylines that comprise life in the NHL.
Berra has covered everything from tennis and baseball to snowboarding and roller derby since joining the staff in 1999. But she's played hockey since she was a kid, and her main beat at the Mag has always been the NHL.
She's dropped gloves with Donald Brashear and P.J. Stock, been to Zamboni school, shamelessly hooked Wayne Gretzky and Paul Coffey and covered hundreds of hockey games, including 10 Stanley Cups. She even shed a tear in the press box when Ray Bourque won his first and only Cup with the Avalanche in 2001, despite her beloved Devils coming up on the losing end. She's also a Jersey girl, a Tar Heel, a triathlete and a yogi.
October
November
December
MOST SENT STORIES ON ESPN.COM