Commentary
Ear to the Glass: Let's get physical
Ducks, Flyers rely on hard-hitting style, but at what cost?
Updated:
October 30, 2009, 4:48 PM ET
By
Lindsay Berra
| ESPN The Magazine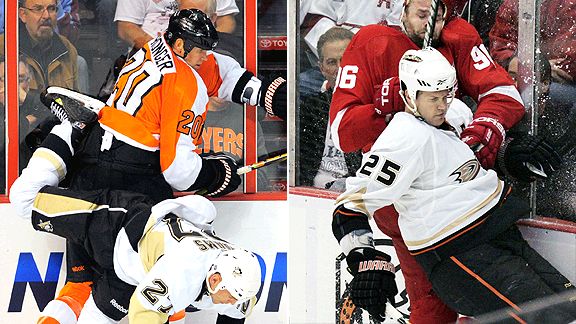 Getty ImagesChris Pronger fits right in in Philly after bullying the Pacific Division with the Ducks.
Oct. 10 is going to hurt. The Anaheim Ducks are making a rare trip East to play the Philadelphia Flyers, pitting the most physical team in the West against the most physical team in the East. And to make this fireworks display just a little bit more interesting, it will be the first game Duck-turned-Flyer Chris Pronger plays against his old squad.
To continue reading this article you must be an Insider
Insider
Lindsay Berra is an avid CrossFitter and a national correspondent for MLB.com. Follow her on twitter @lindsayberra.
Ear to the Glass

Do you hear what we hear?
ESPN The Magazine senior writer Lindsay Berra takes readers over the boards and onto the ice every Friday to pick players' brains about the varied and stirring storylines that comprise life in the NHL.
Berra has covered everything from tennis and baseball to snowboarding and roller derby since joining the staff in 1999. But she's played hockey since she was a kid, and her main beat at the Mag has always been the NHL.
She's dropped gloves with Donald Brashear and P.J. Stock, been to Zamboni school, shamelessly hooked Wayne Gretzky and Paul Coffey and covered hundreds of hockey games, including 10 Stanley Cups. She even shed a tear in the press box when Ray Bourque won his first and only Cup with the Avalanche in 2001, despite her beloved Devils coming up on the losing end. She's also a Jersey girl, a Tar Heel, a triathlete and a yogi.
October
November
December
MOST SENT STORIES ON ESPN.COM