Commentary
Winded city?
The Hawks were last spring's talk of the league. But can they get up for the fall?
Updated:
October 2, 2009, 4:08 PM ET
By
Lindsay Berra
| ESPN The Magazine
This story appears in the Oct. 5 issue of ESPN The Magazine.
The United Center is a rollicking sea of red. Blackhawks right wing Patrick Kane snags the puck from a dazed Canuck at the Hawks' blue line, carries it straight down the slot, dekes outside, then inside, then fires a backhand behind Vancouver goalie Roberto Luongo for his third goal of the game. The remaining 3:43 ticks off the clock and 22,687 Chicago fans are euphoric as the resurgent Hawks close out the 2009 Western Conference semifinals with a 7-5 Game 6 win.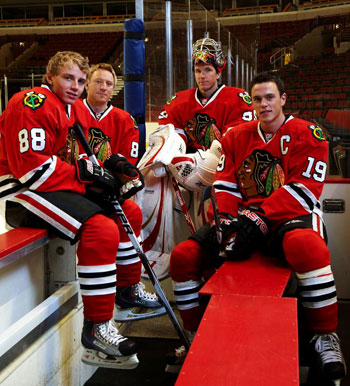 Brad Harris for ESPN The MagazineFrom left: Patrick Kane, Marian Hossa, Cristobal Huet and Jonathan Toews.
No one cares that the mighty Red Wings await -- that it's all but futile for the youth-driven Hawks, who are making their first playoff appearance since 2002, to even think of chinking the armor of the NHL's perennial best. For the moment, all anybody wants to do is celebrate a hockey renaissance in Chicago by hoisting another beer and toasting Patrick Kane.
Fast-forward three months. On a late-August afternoon in Buffalo, the most kid-friendly, mother-approved player in the NHL stands outside a courtroom in a crisp, black suit. This time, the crowd surrounding him isn't so hospitable. The blue eyes of the 20-year-old Kane are weary, his face careworn as he addresses the horde of cameras and microphones. "I want to apologize to the city of Buffalo, to my teammates, to the whole Blackhawks organization and to all the fans for being in a regrettable situation," he says. "But it's behind me. It's time to move on."
To continue reading this article you must be an Insider
Insider
Lindsay Berra is an avid CrossFitter and a national correspondent for MLB.com. Follow her on twitter @lindsayberra.
ESPN The Magazine: October 5 issue

Check out all the content from ESPN The Magazine's October 5 issue. The majority of the below is for ESPN Insiders.
October 5 Issue
Reebok Men's Chicago Blackhawks 2014 Nhl Stadium Series Jonathan Toews #19 Premier Jersey Shop »
MOST SENT STORIES ON ESPN.COM