J.J. Arrington
RB | (5'8", 214, 4.45) | California

Scouts Grade: 85

Flags: (B: BULK/SIZE) Lacks size/bulk for position
Selected by: Arizona Cardinals
Round: 2
Pick (Overall): 12(44)
You are signed into Insider
and have access to the exclusive draft content below.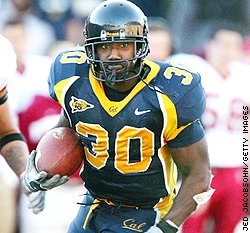 (RB) J.J. Arrington - California

Strengths: One of the most explosive backs in this year's class. Has the burst to turn the corner, shows good speed in the open field and has a big-time second gear. Shows adequate vision, reads blocks well and flashes the ability to exploit cutback lanes. Plays with good intensity, is a competitor and fights for the extra yard despite lack of ideal size. Has a powerful lower body and drive his legs. Breaks a good deal of tackles for a smaller back. Rarely drops passes that should catch and is a threat to turn the short gain into the big play. Lack of size is concerning at NFL level but has never had major injury and doesn't have a lot of mileage on his legs. Is a tough back that will throw his body around and isn't afraid to cut bigger defenders.

Weaknesses: Lacks ideal size. Is well-built but on the shorter side. Is explosive but lacks ideal elusiveness and won't make multiple defenders miss in the open field. Had some fumbling problems early in his career. Doesn't always match up well as a blocker. Aware, technically sound and willing but gets run over by bigger blitzing LB's.

Overall: Arrington attended the College of the Canyons in Santa Clarita before transferring to California in 2003. He started two games in his first season with the Golden Bears before his breakout season as a senior in 2004, when he finished with 2,018 yards and 15 TD's on 289 carries. He also had 21 receptions for 121 yards. Arrington doesn't have great size and he's never going to be a powerful interior runner. He is on the shorter side and has some trouble matching up as a pass blocker. He also had some fumbling problems early in his career but he seems to have rectified that. Despite limited experience as a premier collegiate running back, Arrington shows very good instincts and consistency. He has lateral quickness, COD skills and acceleration that most other backs in this draft class don't possess. He also has very good hands and the explosiveness to make an impact as a receiver in the NFL. Arrington has a chance to develop into a fulltime starter in the NFL if put in the right scheme. In the meantime, he can serve as a third down and scat-back type that also can potentially help in the kickoff return game. His explosiveness and versatility make him worth the gamble in the middle of the second round.


* Player biographies are provided by Scouts Inc.