Commentary
NFL's most dangerous sack artists
It's not just the sack -- it's the timing, and these guys get the most when it counts
Originally Published:
December 21, 2011
By
Peter Keating
| ESPN Insider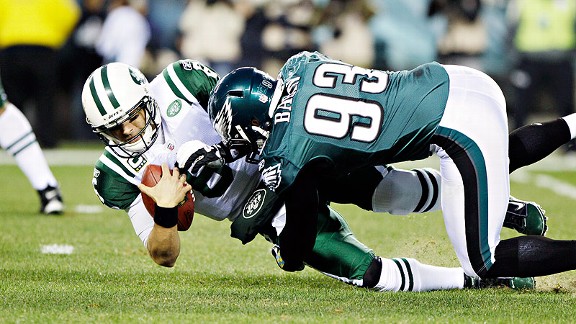 AP Photo/Matt SlocumJason Babin has been a force to be reckoned with this year for the Philadelphia Eagles.
In a week in which the whole world was watching Tom Brady vs. Tim Tebow, and Philip Rivers (Total Quarterback Rating: 97.5), Tony Romo (97.5) and Michael Vick (96.2) posted eye-popping performances, save some attention for Jason Babin, Aldon Smith and their ilk: the guys who make quarterbacks' lives miserable by racking up sacks.
NFL defenders are on pace for 1,199 sacks this season, which would be the most since 2000. And the proportion of QB attempts ending in sacks is creeping up, too, from 5.9 percent in 2008 to 6.1 percent last year to 6.5 percent this year, as defenses try to adjust to the Brady-Brees-Rodgers era of quarterbacking. As offenses keep passing more, sacks become more valuable.
Moreover, as offensive schemes keep getting harder to defend downfield, pass-rushing becomes even more important; you probably have a better chance trying to get to Brady than trying to cover Rob Gronkowski. So teams have responded by blitzing more: Defenses now send an extra pass-rusher or defensive back on 40 percent of QB drop-backs. And by drafting pass-rushers: a whole bumper crop of sack specialists, including Geno Atkins, Cliff Avril, Connor Barwin, Adrian Clayborn, Jason Pierre-Paul, Von Miller and Smith, are 25 or younger. If you don't know all of these guys, don't worry, you probably will eventually. They all have the potential to explode into national prominence the way Pierre-Paul did a couple of weekends ago against the Cowboys.
The strategy of getting to the quarterback can pay huge dividends, for sacks are the rare glamor stat that is actually more valuable than most fans, and many teams, realize. Suppose we look at all the contributions that a quarterback makes through the air, adding together the points he adds to his team from passing and guiding his receivers to yards after catches, and subtracting the cost of his interceptions. This season, starting QBs are averaging 10.2 expected points added from passing per 100 action plays, according to the QBR model, which tracks the value of every play. But they are losing an average of 4.2 points per 100 action plays to sacks. Sacks, in other words, are negating 41.1 percent of the value of NFL passing games this year. That's a big number, and it's up from just 36.2 percent three years ago.
There is in fact a sad group of QBs who have lost more points by getting sacked than they have gained through the air: John Skelton, Kevin Kolb, Sam Bradford, Christian Ponder, Curtis Painter and, with a woeful 4.5-1 ratio going the wrong way, Blaine Gabbert. Essentially, their teams would be better off, often considerably so, if these guys just fell on the ball instead of ever attempting a pass. We should, however, probably cut them some slack. Several are very young, and still learning how to adjust to pro pass-rushes. And as you can see from Kolb and Skelton both making the list, most are playing behind absolutely porous offensive lines.
To read more the most dangerous sack-masters in the NFL, and just how valuable they are, you must be an ESPN Insider.
Insider
Peter Keating is a senior writer at ESPN The Magazine, where he covers investigative and statistical subjects. He started writing "The Biz," a column looking at sports business from the fan's point of view, in 1999. He also coordinates the Magazine's annual "Ultimate Standings" project, which ranks all pro franchises according to how much they give back to fans. His work on concussions in football has earned awards from the Deadline Club, the New York Press Club and the Center for the Study of Sport in Society.
NFL WEEK 16 PREVIEW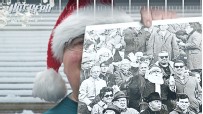 WEEK 16 PICKS
POWER RANKINGS
MNF: Falcons at Saints, 8:30 ET
HOT BUTTON: Non-QB MVP
HOT READ: Booing Santa in Philly
FINAL WORD
JOHN CLAYTON/ADAM SCHEFTER
COMMENTARY/BLOG POSTS
SPORTSNATION
NFL DRAFT


MOST SENT STORIES ON ESPN.COM