NFL Future Power Rankings
Evaluating the core of every franchise as it projects for the 2016 season
Originally Published:
June 19, 2013
By
ESPN Insider Staff
| ESPN Insider
Long-term, sustainable success. It's the goal of every NFL franchise. And while some have realized it in recent years -- the Pittsburgh Steelers, Green Bay Packers, New York Giants and New England Patriots, to name a few -- it has proved equally elusive to others who have chased football's biggest prize with a short-term, win-now mindset only to butt-fumble away their long-term growth (see: Jets, New York).
ESPN Insider's NFL Future Power Rankings are an attempt by our expert analysts to measure the confidence they have in each franchise as it projects three seasons ahead. It is not a predicted order of finish for the 2016 season, but rather a barometer tracking where each franchise is heading. And from our first installment of the project last summer to now, we've already seen some organizations make great strides towards becoming a Super Bowl contender, while others have slipped back towards square one.
In evaluating each team, our analysts broke down five facets deemed critical to the long-term health of a franchise:
• The roster (minus the QB) as it projects in 2016, emphasizing players 27 and younger
• The franchise quarterback as he projects in 2016
• The strength of a team's 2013 draft picks and their available picks in future drafts
• The reputation and performance of the front office
• The stability and acumen of a team's coaching staff
Our experts -- Herm Edwards, Mel Kiper, Mike Sando, Gary Horton, Matt Williamson and Field Yates -- ranked each franchise from 1-10 across the five categories, then provided a breakdown for each team. Former NFL GM Bill Polian abstained from the ranking, but offered his insights for the front office analysis below. Using a weighted formula (explained briefly in the sidebar to the right, and in more detail here) we generated our final rankings.
Here are the NFL Future Power Rankings:
---
AFC
NFC
---
1

The bar graphs reflect the average rating given by the voters for each category.
Category averages are weighted by importance to generate overall score.
Roster: Because of their excellent depth, the 49ers have been able to replace their aging players with talented young backups. They have a dynamic young QB in Colin Kaepernick behind a dominating offensive line. However, right now it's unclear the players we will see at the running back and wide receiver positions in 2016. Defensively, the 49ers are loaded, especially with interior linebackers Patrick Willis and NaVorro Bowman, but there are age concerns along the defensive line and in the secondary -- so San Francisco's backups and draft choices must step up. -- Gary Horton
Quarterback: Kaepernick was arguably the best player on the field in five of his 10 regular-season and postseason career starts, and that included games against Chicago, New England, Miami, Green Bay and Atlanta. That's a strong indication the 49ers have found their franchise quarterback. This will be Kaepernick's team in 2013 and for many years to come. He's going to benefit from organizational strength, as San Francisco was the only team in the league to rank among the top three in all five categories for this project. -- Mike Sando
Draft: To quote my 2013 NFL Draft Grades, "[GM] Trent Baalke has done such a nice job of constructing this roster that drafting can be tricky, because the 49ers just don't have a glut of needs." The 2010 and 2011 49ers drafts are significant portions of the currently loaded roster, and the 2012 class is a big "Incomplete" mainly because there were few holes to address. The 49ers piled up more depth in 2013, and have added a pair of extra picks for 2014. This is a savvy front office, and it knows that extra picks will come in handy as the price tags on a loaded roster get bigger over the next few years. -- Mel Kiper
Front office: Head coach Jim Harbaugh and GM Baalke have a team that is a genuine world championship contender, but there are still a few question marks. One is whether Colt McCoy can hold the fort were anything to happen to Kaepernick. All else, including the seemingly unstoppable Frank Gore, continues in place on offense -- though Marcus Lattimore will have to step up to replace Gore in 2014 or they'll need to draft a different successor. Quinton Patton, a fourth-rounder, is a young one to watch. Defensive coordinator Vic Fangio has done a great job with perhaps the most talented group in the league. He must however, replace Dashon Goldson and Isaac Sopoaga. He has some outstanding young talent to do it with in Eric Reid, Tank Carradine and Corey Lemonier. Glenn Dorsey has been added to back up Justin Smith, but if there is an indispensable man on this team, it is Justin Smith. The sack production of this defense tailed off markedly when Smith was hurt because the rush combination of Justin and Aldon Smith was the best tandem in the league. Niners fans will close out the Candlestick era with a team worthy of Bill Walsh's legacy. -- Bill Polian
Coaching: The 49ers are tough and physical on both sides of the football, a philosophy that permeates throughout the organization. Going into his third season in San Francisco, Jim Harbaugh and his coaching staff have done a terrific job. This team doesn't beat itself and the lack of turnover both among coaching staff and personnel shows the commitment and focus this team has. The 49ers will be a powerhouse for years to come. -- Herm Edwards
To see which teams came out on top of the Insider's NFL Future Power Rankings -- and get access to the full series and the rest of ESPN Insider's NFL content -- become an Insider today.
Insider
FUTURE OF FOOTBALL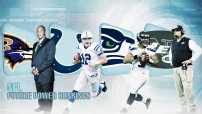 What does the future of football look like? ESPN.com will spend the week gazing into our crystal ball. The week kicked off with a look at the next class of college stars and continues with predictions for future college and NFL power rankings.
NFL: FUTURE POWER RANKINGS
COLLEGE: FUTURE POWER RANKINGS
EDITORS' PICKS
Overreliant on QB Andrew Luck, Indianapolis would be wise to address the run game in this year's draft.
Joyner

In terms of skills that translate to the NFL level, Jameis Winston is one of the top QB prospects in years.
McShay

Athletes, teams

MOST SENT STORIES ON ESPN.COM