Top 10 scariest defensive players
Freakish abilities of J.J. Watt, NFL's top defenders are a QB's nightmare
Originally Published:
October 26, 2012
By
Ron Jaworski
| ESPN Insider
A lot can go wrong as an NFL quarterback. There's the footwork as you drop back. Finding the proper arm slot on the release. Moving quickly and cleanly through your progressions. But even the simplest action can be complicated -- often drastically -- by one ever-present factor: the defense.
You'd be surprised how much more difficult even the easiest tasks become when a 6-foot-5, 270-pound defensive end is hurling himself at the small of your back. For NFL QBs, that's just another day at the office. If you want to succeed, you have to put those thoughts aside. Still, some defensive players leave more of an imprint on your psyche than others. Simply put, some guys are just flat-out scarier.
Mike and Mike in the Morning
ESPN NFL analyst Ron Jaworski dishes on Cam Newton, Panthers-Bears, Tony Romo, Giants-Cowboys, the impact of Sean Lee's injury, Falcons-Eagles, the Patriots' offense and more.
When I was taking snaps, I always hated facing really skilled edge rushers. I wanted to get the ball, get to my launch point and make my reads from there. With those edge rushers bearing down, though, you often get pushed off your spot. You're forced to move, and once that happens, your mechanics suffer and the resulting throws ... well, sometimes I shudder just thinking about them.
I was never afraid of any defensive player during my playing days, but I absolutely respected them. So to be clear, I don't think there are guys on the defensive side of the ball who actually scare today's signal-callers. Tony Romo isn't checking under his bed for Jason Pierre-Paul before he falls asleep. But the psychological impact these defenders have on quarterbacks is absolutely real.
The phrase I often use to describe the impact is "renting space in a quarterback's head." They affect the quarterback's ability to think clearly both before and after the snap. That cloudiness leads to mistakes on the field, and that's when we witness the horror of a mangled offensive game plan.
The defenders I'm about to describe are excellent at renting space in a quarterback's head. Altogether, they'd form a veritable Bates Motel for any NFL signal-caller. Here are the 10 scariest faces a QB could see any given Sunday.
1. J.J. Watt, DE, Houston Texans

In compiling this list, I gave a lot of weight and consideration to a player's total career, but what Watt is doing this season is truly remarkable. For a QB it can't get any scarier than when your passes never get beyond the line of scrimmage. The batted balls (nine on the year) are a result of Watt's uncanny ability to read the QB's eyes. I know some of my colleagues thought that he might not be able to do that against a taller QB like the 6-foot-6 Joe Flacco. Well, he did it twice in that Texans romp over the Ravens.
The truth is the whole of the Houston defensive line does a good job batting down passes, and the technique is familiar to me from my Arena Football League team, the Philadelphia Soul. The technique is called a mirror rush. Rather than plunge full speed at the quarterback, the defensive line watches the QB's eyes and mirrors his motions, timing its jumps to coincide with his release. It works well in the arena league because the ball must come out on a flatter trajectory due to the smaller field. It works well in Houston because the line has absolutely bought in to what D-line coach Bill Kollar is preaching.
To see the rest of Jaws' top 10 defensive players, you must be an ESPN Insider.
Insider
NFL analyst / writer
Ron Jaworski is one of the most popular and knowledgeable analysts covering the NFL today. Since joining ESPN in 1990, the former standout NFL quarterback has covered the league from virtually every angle -- sideline reporter, game-site reporter, host and both studio and game analyst. From 2007-11, Jaworski occupied one of the most coveted positions in sports as a Monday Night Football analyst.
NFL WEEK 8 COVERAGE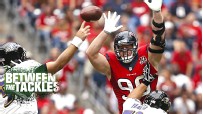 Follow the NFL on ESPN on Facebook
Fantasy Football on ESPN.com
NFL Nation blog | Leaders NFL Stadium Guides | QBR ratings
Monday Night HQ
PICKS
MNF: 49ers at Cardinals, 8:30 ET
HOT READ
CLAYTON / FOX / SCHEFTER
COMMENTARY/ANALYSIS
INSIDER
2013 NFL DRAFT

MOST SENT STORIES ON ESPN.COM