Commentary
Ranking the RBs: Peterson is No. 1
Adrian Peterson leads all running backs; Chris Johnson is No. 2
After watching games and breaking down film, Scouts Inc. has evaluated and graded more than 2,500 NFL players heading into the 2011 season. Here's how the top running backs stacked up.
If you were to build a positional ladder, most important position at the top, perhaps no position has taken a bigger hit in recent years than running back. Just look around the league -- how many offenses are left that seem to rely on one primary back? A handful?
It starts with the demands. Running backs just take such a beating. We see tons of teams using more specialty players at this position and employing the "Running back by committee" approach. But still, few positions have the combination of power, grace and the wonderful ability to make everyone's jaw in the stadium drop like a great running back. As for our grades, in ranking them, you might think it was a close battle for No. 1. You'd be wrong. It was Adrian Peterson, and it wasn't as close as you might think.
1
Adrian Peterson

95

Att 283
Yds 1,298
Avg 4.6
Long 80
TD 12
Fum 1
Player Analysis
Adrian Peterson continued to be one of the most productive ball carriers in the league in 2010. He was banged up and missed some time for the first time in his short four-year career but has been extremely durable since he entered the league.
MORE ANALYSIS
Peterson is an excellent combination of size, strength and athleticism. He has impressive power on contact but tends to carry his pads too high at times. He can break tackles or move the pile. Peterson is an instinctive inline runner with excellent lateral agility to find creases between the tackles. He has deceptive burst and speed to pick up chunks of yards and rip off long touchdown runs. He is a reliable receiver out of the backfield but isn't outstanding in this phase of the game. Look for Peterson to be even a larger part of the Vikings' offense with a new quarterback at the helm in 2011.
CLOSE ANALYSIS
2
Chris Johnson

92

Att 316
Yds 1,364
Avg 4.3
Long 76
TD 11
Fum 3
Player Analysis
Johnson is an undersized back with explosive speed and acceleration. He is more effective on off-tackle runs and end sweeps but will show decent effort running between the tackles.
MORE ANALYSIS
He can get to the outside and turn upfield with a burst and shows excellent elusiveness in the open field. He is not a very effective blocker but will at least show some effort to get in the way. He is an effective receiver both out of the backfield and on downfield routes.
CLOSE ANALYSIS
3
Jamaal Charles

90

Att 230
Yds 1,467
Avg 6.4
Long 80
TD 5
Fum 3
Player Analysis
A third-round choice in 2008, Charles has steadily improved his numbers each and every year. Although he has shared starting and playing time with either Larry Johnson (2009) or Thomas Jones (2010), he has managed to lead the team in yards and gain in excess of 1,000 yards each of the past two years.
MORE ANALYSIS
He finished 2010 as the league's No. 2 ball carrier with 1,467 yards and had the best per-carry average (6.4). He is explosive to the hole as well as through it and is extremely dangerous once he gets to the second level with his open-field running skills and acceleration. He is slightly undersized for the position but appears to hold up well. He is a very effective receiver out of the backfield as well as on downfield routes.
CLOSE ANALYSIS
4
Maurice Jones-Drew

88

Att 299
Yds 1,324
Avg 4.4
Long 37
TD 5
Fum 2
Player Analysis
Jones-Drew lacks height and length but compensates with excellent quickness, agility and body control. He has thick, powerful legs that allow him to run through more tackles than you'd expect.
MORE ANALYSIS
He shows excellent vision and does a good job setting up his blockers and finding the narrow running lanes. He can string together a series of moves, making him extremely dangerous once he gets to the second level. He does a good job of finishing his runs off and getting extra yards after initial contact. He is an effective receiver out of the backfield and downfield.
CLOSE ANALYSIS
5
Ray Rice

85

Att 307
Yds 1,220
Avg 4.0
Long 50
TD 5
Fum 0
Player Analysis
Rice is a short, powerfully built player with excellent athleticism and instincts. Rice runs with a low center of gravity and has a powerful lower body.
MORE ANALYSIS
He can threaten the corner and is capable of breaking longer runs. Rice also shows very good balance and good hands as a receiver out of the backfield. He has excellent instincts with the ball in his hands and, despite not having elite speed, he can pick up yards in chunks.
CLOSE ANALYSIS
To see the rest of Scouts Inc.'s ratings of every RB in the NFL -- plus access to the rankings for every other NFL player -- you must be an ESPN Insider.
Insider
ESPN.com
Joined ESPN in 2005
Was an NFL and college scout for the Cleveland Browns
The NFL on ESPN.com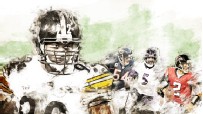 WEEK 1 PICKS
MORE NFL COVERAGE
2011 NFL PREVIEW
JOHN CLAYTON QB RANKINGS
NFL DRAFT

MOST SENT STORIES ON ESPN.COM