Commentary
The Scouts Inc. 200: Brady's the one
In a quarterback-driven league, it's no surprise to see a QB at the top of the rankings
After watching games and breaking down film, Scouts Inc. has evaluated and graded more than 2,500 NFL players heading into the 2011 season. Here's how the top 200 players stacked up.
No one would dare say ranking these players is an easy chore. In fact, it's a brutal chore. But it's pretty obvious in viewing the top of this list as to what has the most value. Simply put, quarterbacks make the league go round. If every general manager were to get together and hold a draft, with every current player as a true free agent, quarterbacks would own the first round. But from there, you can learn a lot.
Next on the list are players who are essential to the passing game, like pass-protectors, pass-rushers and superb cover men. He doesn't get the air-time, but Joe Thomas is far more dominant at a key position in the passing game than many quarterbacks are. And a great quarterback can make his receivers look better, but that's a two-way street. Elsewhere, you may see some players you barely recognize, but don't discount how great a player Kyle Williams is because he's been playing on a struggling Buffalo Bills team.
From there, just look for dominance. Is there really anyone better at what they do than Darrelle Revis? Well, you could certainly have a case to say that Revis' teammate, Nick Mangold, is as good at what he does as Revis is based on what he's asked to do. (Thus making this whole ranking business very difficult.)
In the end, this list is all about value. It's about the skills and traits most coveted on a football team to help them become winners.
Scouts Inc.'s complete Top 200:
1-25 | 26-50

| 51-75

| 76-100

101-125

| 126-150

| 151-175

| 176-200


1
Tom Brady

95

Att 492
Comp 324
Yds 3,900
TD 36
Int 4
QBR 76.0
Player Analysis
Brady has an excellent combination of size, intelligence, instincts and arm strength. He is just an above-average athlete but shows enough foot quickness and agility to slide in the pocket and deliver the ball effectively downfield. His poise enables him to find his second and third options.
MORE ANALYSIS
Brady has excellent vision and reads coverages and pressure packages as well as anyone. He can power the ball into tight spots or use touch on delicate throws. Brady can improvise and deliver the ball from different angles, but isn't an outstanding creator when plays break down. He is excellent at getting rid of the ball to avoid the sack.
CLOSE ANALYSIS
2
Peyton Manning

95

Att 679
Comp 450
Yds 4,700
TD 33
Int 17
QBR 69.5
Player Analysis
Manning is primarily a pocket passer and has just enough agility and quickness to step up or to side-step the pass rush. He is not going to extend the pocket with speed or agility very often.
MORE ANALYSIS
He has a very strong arm and has shown the ability to throw from various angles and launch points while still maintaining his accuracy. Manning understands the offensive scheme and is given a lot of freedom to change plays at the line of scrimmage. He is an elite quarterback and still playing at a very high level.
CLOSE ANALYSIS
3
Darrelle Revis

95

Tkl 32
Solo 42
Sack 0
Int 3
FF 0
TD 2
Player Analysis
Revis has outstanding quickness, agility and speed to challenge the top receivers in the league. He is at his best in press man coverage, in which he can use his long arms to get an effective jam on his opponent off the line of scrimmage.
MORE ANALYSIS
He has good vision and instincts. Revis is a solid run-support player who shows decent pop as a tackler. He doesn't have outstanding pure speed on the perimeter but understands angles and leverage. He can be dangerous with the ball in his hands after a turnover.
CLOSE ANALYSIS
4
Adrian Peterson

95

Att 283
Yds 1,298
Avg 4.6
Long 80
TD 12
Fum 1
Player Analysis
Adrian Peterson continued to be one of the most productive ball carriers in the league in 2010. He was banged up and missed some time for the first time in his short four-year career but has been extremely durable since he entered the league.
MORE ANALYSIS
Peterson is an excellent combination of size, strength and athleticism. He has impressive power on contact but tends to carry his pads too high at times. He can break tackles or move the pile. Peterson is an instinctive inline runner with excellent lateral agility to find creases between the tackles. He has deceptive burst and speed to pick up chunks of yards and rip off long touchdown runs. He is a reliable receiver out of the backfield but isn't outstanding in this phase of the game. Look for Peterson to be even a larger part of the Vikings' offense with a new quarterback at the helm in 2011.
CLOSE ANALYSIS
5
Aaron Rodgers

94

Att 475
Comp 312
Yds 3,922
TD 28
Int 11
QBR 67.9
Player Analysis
Rodgers has size, strength and athleticism. He makes good decisions and puts the Packers in position to win almost every game. He shows good vision and the ability to read defenses.
MORE ANALYSIS
Rodgers can power the ball into tight windows with his arm, and he can improvise when plays break down. He is effective in the pocket or off play-action, and while he doesn't have great speed he can pull the ball down and move the chains with his legs.
CLOSE ANALYSIS
6
Drew Brees

94

Att 658
Comp 448
Yds 4,620
TD 33
Int 22
QBR 65.9
Player Analysis
Brees has missed just one game in the past five seasons and is consistently one of the leading passers when it comes to completions, completion percentage and quarterback rating. He can make plays from the pocket and has the foot quickness and speed to extend the pocket and make plays from the perimeter.
MORE ANALYSIS
Brees has a great working knowledge of the passing game and excels when it comes to reading coverages and adjusting on the move. He knows how to game plan and sees possibilities as they develop. Brees brings a great combination of a physical skill set as well as the mental skills to attack a defense.
CLOSE ANALYSIS
7
Andre Johnson

93

Rec 86
Yds 1,216
Avg 14.1
Long 60
TD 8
Player Analysis
Johnson brings a rare combination of size, speed and athleticism. He is a good route runner who has the speed to challenge the secondary down the seam yet can run combination routes with excellent foot quickness, agility and acceleration.
MORE ANALYSIS
Johnson can get in and out of his breaks with foot quickness and a burst to separate from defenders and has a wide receiving radius that allows him to extend to make difficult catches. He can go up and high point the ball in a crowd and has the strength to overpower most cornerbacks when challenged.
CLOSE ANALYSIS
8
Ben Roethlisberger

93

Att 389
Comp 240
Yds 3,200
TD 17
Int 5
QBR 59.8
Player Analysis
Roethlisberger is a big, strong-armed quarterback with above average athleticism. He has quick feet for his size and can slide and improvise to make effective throws downfield.
MORE ANALYSIS
Roethlisberger is the toughest quarterback in the league to get on the ground, with great instincts to avoid pressure and natural body strength to break tackles. He has great vision and patience to find his second and third options but can be a bit of a gambler.
CLOSE ANALYSIS
9
Joe Thomas

93

Player Analysis
Thomas is an excellent combination of size, strength and athleticism. He has great instincts and reactions. His technique is strong for such a young player, and he obviously takes his craft seriously.
MORE ANALYSIS
Thomas can get to the second level as a run blocker and is adept at hitting a moving target downfield. Thomas could stand to add more strength. He is a physical lineman that can set the tone in the running game.
CLOSE ANALYSIS
10
Larry Fitzgerald

92

Rec 90
Yds 1,137
Avg 12.6
Long 41
TD 6
Player Analysis
Fitzgerald has quickly risen to arguably the most electric receiver in the NFL. He brings a rare combination of size, speed, athleticism and receiving skills. He is a good route runner who can sink his hips to get in and out of his breaks with good foot quickness and a burst to separate from defenders and has a gear coming out to maintain the separation.
MORE ANALYSIS
Fitzgerald's biggest asset is his ability to adjust and make acrobatic catches. He has good run skills after the catch and can turn a short catch into a long touchdown with a single missed tackle. He is competitive to the ball when in a crowd and will elevate to high-point the catch.
CLOSE ANALYSIS
To see the rest of the Scouts Inc. Top 200 ranking, you must be an ESPN Insider. Sign up today!
Insider
ESPN.com
Joined ESPN in 2005
Was an NFL and college scout for the Cleveland Browns
The NFL on ESPN.com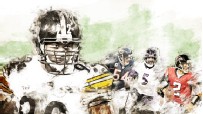 WEEK 1 PICKS
MORE NFL COVERAGE
2011 NFL PREVIEW
JOHN CLAYTON QB RANKINGS
NFL DRAFT

MOST SENT STORIES ON ESPN.COM