Commentary
Tale of the Tape: Coaching staffs
Originally Published:
January 30, 2009
By
Jeremy Green
and
Gary Horton
| Scouts Inc.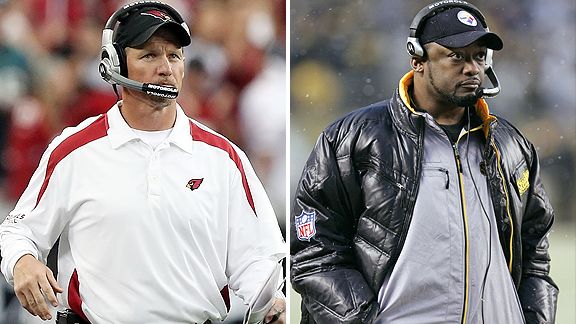 Getty Images/AP Photo
Scouts Inc.'s Jeremy Green and Gary Horton have reviewed all the film and broken down the coaching staffs in Super Bowl XLIII. We have compared these two staffs in three areas and given an edge for each. Some of the decisions may surprise you.

Head coaching
This is a matchup of two leaders looking for their first Super Bowl rings as head coaches. Both coaches are fairly young, and both are likely to have some pregame jitters. Cardinals head coach Ken Whisenhunt does an outstanding job of letting his coaches coach, and he is not someone who feels like he has to have his hand in everything, which gives his two coordinators a lot of confidence. Whisenhunt knows QB Ben Roethlisberger and a number of the Steelers' players from the time he spent as offensive coordinator in Pittsburgh. He knows Big Ben's tendencies and he can pass those on to defensive coordinator Clancy Pendergast. He has a lot more knowledge about the Steelers than Pittsburgh head coach Mike Tomlin has about the Cardinals.
This Steelers team is a reflection of Tomlin's no-nonsense personality. We all thought of former Steelers head coach Bill Cowher as a tough coach who drove his players hard, but that is actually a description more suited to Tomlin. Practices are tough, physical and very demanding, with an attention to detail. Although he appears to have a hard edge, he has a solid handle on when to put his foot on the pedal and when to ease off. He has eased up on his team a little bit this season and depends on a very responsible group of veteran players. As a result, the Steelers appear to be a fresher and happier team. Tomlin is well respected, totally focused and a perfect fit for the Steelers.
Edge: Whisenhunt
To continue reading this article you must be an Insider
Insider
Scouts Inc.
Gary Horton spent 10 years in the NFL as a scout and another 10 years at the college level as an assistant coach and recruiter. He is the founder and most seasoned member of the Scouts Inc. staff, and his extensive experience at all levels of football make him an excellent talent evaluator.
SPONSORED HEADLINES
MORE NFL HEADLINES
MOST SENT STORIES ON ESPN.COM
SUPER BOWL XLIII
In one of the best Super Bowls ever, the Steelers blew a 13-point lead before they delivered their own comeback to beat Arizona, 27-23. Super Central
Super Bowl results | MVPs
Photos: Game action | Halftime show


GAME COVERAGE
SB WEEK COLUMNS/FEATURES
CARDINALS SB WEEK COVERAGE
STEELERS SB WEEK COVERAGE