Commentary
How the Patriots' offense will evolve
New England has shifted to many two-TE sets, but what will happen next season?
Originally Published:
February 2, 2012
By
Danny Tuccitto
| Football Outsiders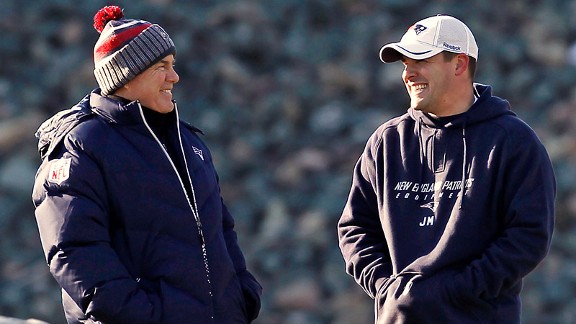 AP Photo/Winslow TownsonWhat will Bill Belichick and Josh McDaniels change about the offense with Bill O'Brien gone?
Regardless of the outcome of Super Bowl XLVI, the departure of New England Patriots offensive coordinator Bill O'Brien immediately thereafter means that the Pats' offense will be entering a period of transition this offseason. What makes this transition particularly fascinating is that after O'Brien (and Bill Belichick) spent the past three years gradually overhauling a record-setting offense installed by Josh McDaniels, it will be McDaniels himself who takes over as O'Brien's successor. In this way, perhaps "retrofit" is a better word choice here than "transition." The amount of retrofitting, and the extent to which retrofitting is successful, will go a long way toward determining New England's Super Bowl chances next season and beyond.
Let's begin with a history lesson. In 2007, McDaniels' second season as New England's offensive coordinator, the Patriots lined up with three or more wide receivers 72 percent of the time, which was the second-most in the NFL. In 2008, they ranked third at 70 percent. During McDaniels' brief tenure as head coach in Denver, the Broncos ranked seventh in three-or-more-wide frequency both seasons. Finally, this season, with McDaniels serving as offensive coordinator in St. Louis, the Rams used three or more wide receivers 69 percent of the time. To state the obvious, then, McDaniels has an affinity for overloading formations with wide receivers.
Almost immediately upon McDaniels' departure, New England began the process of shifting away from multiple-receiver sets, and toward greater use of multiple-tight end formations. After using two or more tight ends only 26 percent of the time in 2008, the past three seasons have seen a gradual increase over time: 34 percent in 2009, 47 percent in 2010 and 50 percent in 2011. (Important: At Football Outsiders, we mark a player as a tight end if he is lined up as a tight end or in the slot, but not if he is lined up in the backfield or wide outside the numbers. So the use of the tight ends as personnel might be greater than our percentages indicate.)
To read the full story on the New England Patriots' offense -- how it has evolved and how it will continue to evolve -- as well as get access to ESPN Insider's complete NFL coverage, sign up today.
Insider
SUPER BOWL XLVI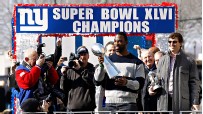 SUPER BOWL XLVI: Giants 21, Patriots 17
SPORTSNATION
PRO FOOTBALL HALL OF FAME
MORE NFL COVERAGE
NFL DRAFT


MOST SENT STORIES ON ESPN.COM