Commentary
How Garcon and Collie make it work
Replacing a legend and a first-rounder, the unheralded WRs shined
Updated:
January 21, 2010, 6:53 PM ET
By
KC Joyner
| ESPN Insider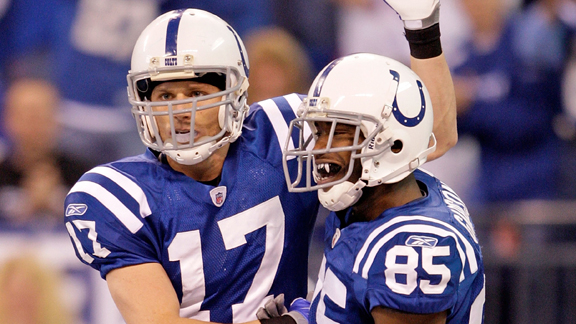 Getty ImagesPicks No. 127 (Austin Collie) and No. 205 (Pierre Garcon) are getting it done.
During the NFL playoffs, Football Scientist KC Joyner is offering a series of "Contrarian Thoughts" -- basically, things about pro football you assume are true that aren't actually true. This edition focuses on the AFC Championship Game between the New York Jets and the Indianapolis Colts.
One of the primary themes of the Contrarian Thoughts series is to uncover unsung heroes who aren't getting the credit they deserve. There have been more than a few of these this postseason, but no two players may be more unsung than the Colts' wide-receiving tandem of Pierre Garcon and Austin Collie.
In order to illustrate their importance to Indianapolis' offense, it helps to take a step back and look at where this team was at the beginning of the season. Marvin Harrison had finally come to the end of his illustrious career; that meant the Colts were in need of a flanker.
That need was compounded in part by Harrison's longtime insistence that he line up almost exclusively on the right side of the formation; while this may have helped him hone his game to an elite level, it also meant it was very difficult for anyone else to gain experience at the flanker position -- which is probably the most important receiving position in the Indianapolis offense.
This situation was made worse when Anthony Gonzalez, the heir apparent to Harrison and the Colts' receiver with the most experience at the flanker position, injured his knee in Week 1.
Uh-oh, Colts. How can you possibly get WR production now, even with the best QB in the world? Everyone will just slide coverage to Reggie Wayne, right? Who will step up? Well, we know who stepped up -- but KC will tell you HOW they did it, and HOW they made Dallas Clark more effective in the process. You need to be an ESPN Insider, though.
Insider
2009 NFL PLAYOFFS: ROAD TO MIAMI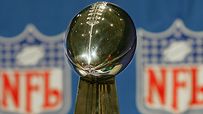 Who will supplant the Steelers as champions? The Colts and Saints will square off in Super Bowl XLIV on Feb. 7 in Miami.
COMMENTARY/BLOGS
CHAMPIONSHIP GAMES
Colts 30, Jets 17
Saints 31, Vikings 28 (OT)
DIVISIONAL ROUND
Vikings 34, Cowboys 3
Jets 17, Chargers 14
Saints 45, Cardinals 14
Colts 20, Ravens 3
WILD-CARD GAMES
Jets 24, Bengals 14
Cowboys 34, Eagles 14
Ravens 33, Patriots 14
Cardinals 51, Packers 45 OT

MOST SENT STORIES ON ESPN.COM