Commentary
With rookie QBs in 2011, why wait?
Four of first 12 picks in the past draft were QBs. Each should start Week 1
Originally Published:
May 25, 2011
By
Chris Sprow
| ESPN Insider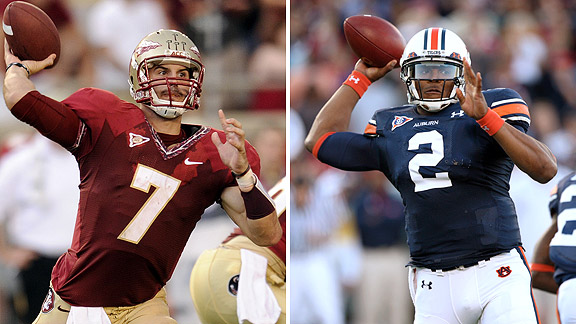 US PresswireWill Cam Newton and Christian Ponder be ready to start in Week One?
In the movie "Backdraft," Kurt Russell plays a Chicago firefighter who routinely disappears to seek out the most impenetrable areas of a burning building in the way a child would disappear to survey the cereal aisle. After the film came out, firefighters roundly disputed its accuracy. Nobody just dives into fires the way Russell's character did, they pointed out. No real fireman would refuse a gas mask as did Russell's character while saying, "You get used to it," and breathing in air as black as charcoal.
NFL coaches can understand the same concept -- for them, those are rookie quarterbacks. You don't get used to it; you only survive it.
"Nobody wants to be in that situation," says Jim Mora Sr. "When you are, part of it is having a guy you believe in, but it's also has to be a guy you think can survive."
Mora is one of just eight NFL coaches in the past 41 years to start a rookie in all 16 games. Think about that: Only once every five-plus years will a rookie quarterback start and finish a season. Mora's experience is one reason: He went 3-13 with the 1998 Colts and watched rookie Peyton Manning throw 28 interceptions in the process. Only because he had an owner and GM who were willing to endure the burning building did he get a chance to stay the course. Few coaches, however, are allowed to play that hand.
But this is where it gets interesting, and it's why all four quarterbacks taken in the top half of Round 1 in this year's NFL draft -- Cam Newton, Jake Locker, Blaine Gabbert and Christian Ponder -- shouldn't just play in 2011 but should start every game, for two key reasons:
To read more about why it is beneficial for teams to start rookie QBs all 16 games, you must be an ESPN Insider.
Insider
ESPN Insider
Senior Editor for ESPN Insider
Works with Mel Kiper on NFL draft content
Written for: New York Times, Seattle Times, others
The NFL on ESPN.com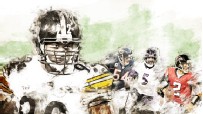 WEEK 1 PICKS
MORE NFL COVERAGE
2011 NFL PREVIEW
JOHN CLAYTON QB RANKINGS
NFL DRAFT
JayBilas

Jay Bilas


So glad NCAA allows the amateur "student-athletes" to model official licensed gear, available for sale right now, without any violation.
7 minutes ago

DNewtonespn

David Newton


#Panthers mailbag: Questions on Cam Newton, etc., Part II http://t.co/ESL3GoIi3H
11 minutes ago

RobDemovsky

Rob Demovsky


Is Clay Matthews an inside linebacker or an outside linebacker? We discuss: http://t.co/OTJsaItwiA#Packers
29 minutes ago

wingoz

trey wingo


So long Monterey, it's been fun. Time to head back to CT, I mean it IS getting up to around 40 today.....
31 minutes ago

JoeKaniaBucs

Joe Kania


Reports: Pitt OT TJ Clemmings has had private workouts with the Bucs, Colts, Vikings, Browns and Cardinals. http://t.co/ClOYX9h98z
33 minutes ago

john_keim

John Keim


Redskins mailbag: Part 2: The topics for part 2 of the mailbag: the need to rebuild; Landon Collins;... http://t.co/8WDdoF7t0r #Redskins
about an hour ago

JamesWalkerNFL

James Walker


Ryan Tannehill's next step? Win more games http://t.co/Ctyd3kyO5Z
about 2 hours ago

RichCimini

Rich Cimini


ICYMI: Rodney Harrison is not a member of the Geno Smith fan club. #nyj http://t.co/XvZEyNRj42
about 2 hours ago

RichCimini

Rich Cimini


After edging Notre Dame, the Wildcats are (old Kentucky) home free, per @Ian_OConnor. #NCAATournament http://t.co/e3TPApZhND
about 2 hours ago

RichCimini

Rich Cimini


Jets notes: Why it should be an open QB competition ... Defensive play calling ... Revis ...Mariota vs. Winston. #nyj http://t.co/Epus8Kstih
about 2 hours ago

RichCimini

Rich Cimini


Jets mailbag, part 2: How good is this team? Questions from @Jetswagg25, @Jetsnation13, @HaseebShakeHer, @pspencer72. http://t.co/veLy7TBBiU
about 2 hours ago

RichCimini

Rich Cimini


Sunday notes: Conflicting signals on Jets' QB situation: A look at what's happening with the New York Jets:1... http://t.co/fUr3cs0JuV
about 2 hours ago

ESPNChiBears

Jeff Dickerson


Chicago Bears Twitter mailbag: Plenty of WR options http://t.co/FulCEha0Oj
about 3 hours ago

AdamSchefter

Adam Schefter


Nephew @CaseyBarone's soccer trainer, @domcas5, spells out some helpful training tips: http://t.co/oYBFjX13JJ
about 5 hours ago

MikeReiss

Mike Reiss


Quick-hit thoughts around Patriots, NFL (Ridley lines up visits, Chandler Jones recovering, Tom Brady-MJ-Welker etc.) http://t.co/2YixYXhzrI
about 5 hours ago

RichCimini

Rich Cimini


Mailbag: Could this be the best Jets team of the decade?: Part II of our New York Jets' mailbag: http://t.co/bTFHsDfX9y
about 6 hours ago

WilliamsonNFL

Matt Williamson


So I am about 15 min into Draft Day & pretty much hate it already
about 11 hours ago

AaronRodgers12

Aaron Rodgers


2 semesters at Butte 3 semesters at Cal10 years a Wisconsin resident. I'll pull for any team I want. But I don't wear red.
about 12 hours ago

mikerothstein

Michael Rothstein


@Matt_Fortuna No, I don't think they gave it away, either...but played totally different in last 1:30 than had in previous 38:30.
about 12 hours ago

mikerothstein

Michael Rothstein


@Matt_Fortuna My only issue there would be the lack of ball movement. That was how they confused UK all game.
about 12 hours ago

MOST SENT STORIES ON ESPN.COM