Commentary
Plugging the Holes: AFC North
Important offseason questions about the Ravens, Browns, Bengals and Steelers
Originally Published:
February 14, 2011
By
Aaron Schatz
| Football Outsiders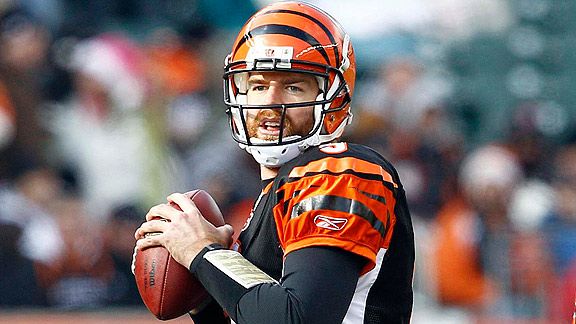 Frank Victores/US PresswireThe Cincinnati Bengals may have to adjust to life without Carson Palmer next year.
Last Wednesday, Football Outsiders began its Plugging the Holes series, in which it targets the offseason issues facing each team in the NFL by division. Aaron Schatz continues with the AFC North.
In this edition, Outsiders looks at the Ravens' field-position advantage, the Bengals' QB dilemma, the Browns' new offensive coordinator and the Steelers' age issues.
---

Going into 2010, Cundiff was a run-of-the-mill kicker who had bounced around the NFL. Between game rosters and preseason, he had suited up for nine teams in nine seasons. Cundiff had just 11 touchbacks in his career, on more than 200 kickoffs.
So it was a shock, to say the least, when Cundiff had 40 touchbacks on 79 kickoffs in 2010. Cundiff was the first kicker to have a touchback percentage of more than 50 percent since the kickoff line was moved back from the 35-yard line to the 30 in 1994. FO metrics scored Cundiff's kickoffs as 15.0 estimated points of field position over average; Olindo Mare was second at 7.7 points.
Cundiff's touchback rate went from 6 percent to 51 percent, a rise of 45 percentage points. Before last year, the greatest improvement in touchback rate since 1994 belonged to Michael Husted, whose touchback rate improved by 22 percent in 1997. Even before 1994, it was extremely rare for a kicker to hit touchbacks half the time. It's safe to say that nothing like this has happened before.
To read the rest of Football Outsiders' analysis of the Baltimore Ravens, plus answers to key questions for every other team in the AFC North, you must be an ESPN Insider.
Insider
NFL analyst for ESPN Insider
Founder of Footballoutsiders.com
SPONSORED HEADLINES
MORE NFL HEADLINES
MOST SENT STORIES ON ESPN.COM
FOOTBALL OUTSIDERS ON ESPN INSIDER
With Super Bowl XLV in the books, Football Outsiders starts looking ahead to 2011 and the biggest issues every NFL team will be facing.
February 9: Plugging the Holes - AFC East
Buffalo Bills: How can they fix the run defense?
Miami Dolphins: Is Chad Henne getting a bad rap?
New England Patriots: Was the defensive improvement at the end of the season a mirage?
New York Jets: What happened to the third-down defense?
February 10: Plugging the Holes - AFC West
Denver Broncos: Who will play quarterback ... and how?
Kansas City Chiefs: Can Jamaal Charles become the next Chris Johnson?
Oakland Raiders: Will Tom Cable's firing delay the long-awaited turnaround?
San Diego Chargers: Will A.J. Smith play "Chicken" again?
February 11: Plugging the Holes - AFC South
Houston Texans: Do they have the players to run Wade Phillips' 3-4 defense?
Indianapolis Colts: Who's going to play with Peyton Manning?
Jacksonville Jaguars: Can anybody here play defensive back?
Tennessee Titans: What kind of team and quarterback does Mike Munchak want?
February 14: Plugging the Holes - AFC North
Baltimore Ravens: Can Billy Cundiff possibly have this many touchbacks again?
Cincinnati Bengals: How much does Carson Palmer have left?
Cleveland Browns: How will Pat Shurmur's offense differ from Brian Daboll's?
Pittsburgh Steelers: Could age prevent another run at the Super Bowl?
February 15: Plugging the Holes - NFC East
Dallas Cowboys: Is it time to move on from Terence Newman?
New York Giants: How can the second-half struggles under Tom Coughlin stop?
Philadelphia Eagles: Should the Eagles trade Kevin Kolb?
Washington Redskins: Can we please have a quarterback?
February 16: Plugging the Holes - NFC West
Arizona Cardinals: Who is going to play quarterback?
St. Louis Rams: Can anyone around here catch a football?
San Francisco 49ers: Is there any hope for Alex Smith?
Seattle Seahawks: Can Red Bryant return to health?
February 17: Plugging the Holes - NFC South
Atlanta Falcons: Where's the speed?
Carolina Panthers: Is Jimmy Clausen a franchise quarterback?
New Orleans Saints: Is an excellent defense around the corner?
Tampa Bay Buccaneers: Can the Bucs be the 2011 Packers?
February 18: Plugging the Holes - NFC North
Chicago Bears: How can the offense cut down on sacks?
Detroit Lions: What was real: the 2-10 start or the 4-0 finish?
Green Bay Packers: How do they sustain success?
Minnesota Vikings: What is the timetable for recovery?
Nike Men's Pittsburgh Steelers Sideline 2014 Gold Staff Polo Shop »