Commentary
Mayne Street: Pete Carroll
Kenny Mayne calls out the quirkier side of Pete Carroll.
Updated:
August 24, 2010, 12:15 PM ET
By
Kenny Mayne
| ESPN The Magazine
KM: Let's get this in the open. We agreed I wouldn't badger you with USC questions.
PC: Why do you use that word -- "badger"?
KM: Fair enough. I don't know if I actually would have badgered, per se.
PC: Go ahead. It's fine. There's nothing you could ask that I haven't been asked already.
KM: Well, there's not much you can change anymore, but does your mind ever drift to what happened? Or are you able to say, "I'm an NFL coach now -- I have a job to do"?
PC: It's not a case of drifting. Everybody has personal issues they're dealing with. This falls into that category.
To read the rest of Kenny's interview with Pete Carroll, you must be an ESPN Insider.
Insider
Anchor/Reporter
Kenny Mayne -- known for his offbeat style, dry humor and unique sayings -- has served a variety of roles in more than 10 years with ESPN. He currently provides features to SportsCenter and "The Mayne Event" segments to Sunday NFL Countdown.
ESPN The Magazine: August 09, 2010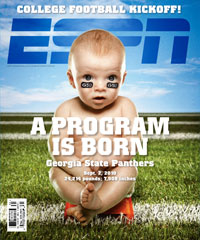 Check out the content from ESPN The Magazine's August 23, 2010 issue below.
Features
Videos
Nike Men's Usc Trojans Black Project Fresh Stadium Lights T-shirt Shop »

MOST SENT STORIES ON ESPN.COM