Commentary
Kiper's Offseason Audits: AFC West
Mel breaks down the offseasons, and needs, of each of the AFC West teams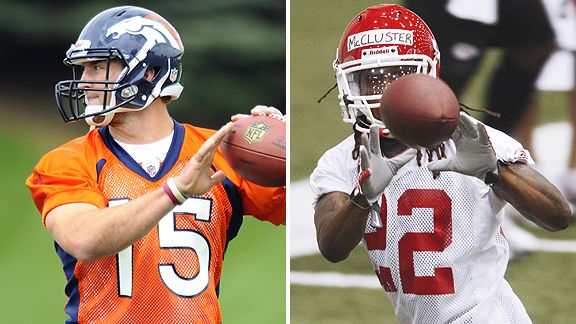 Getty ImagesOne of these two could have an early impact, but you wouldn't know it based on attention.
The draft is obviously the focal point of the NFL offseason for me, but it certainly doesn't end there. The picks are only half of the equation. How they fit is where the draft is really made. And part of that also has to factor in new personnel that teams have added around them.
So with the draft clearly in mind, let's do a quick summer audit on the situations of the teams in the AFC West. I'll hit three things: first, a crucial influx, such as an impact player or position group; second, a question mark that still lingers; finally, if the team had a chance to draft anyone from the upcoming draft class right now to address a hole, who it would be. (If your team does or doesn't have an early pick in next year's draft isn't the issue -- it's just a hypothetical involving top college talent and current needs.) So call it a check-up and a look-ahead wrapped together -- part deep projection, part current need.
(You can find all the pieces together in one place by going here.)
---
AFC West
Crucial influx: For as much as I questioned the pick of Tim Tebow -- remember what I wrote afterward: It's not the pick; it's the price -- I loved the Demaryius Thomas selection. Denver traded down and still got their man. Thomas will be called on to fill the void left by the departure of Brandon Marshall. The problem: Marshall wasn't just a deep threat -- he's a valuable player in intermediate and underneath routes, where his size was equally useful. Thomas was a home run threat, period, at Georgia Tech. But don't overlook Eric Decker, their third-round pick out of Minnesota. He could help the passing game in this area, perhaps sooner than Thomas.
The question mark: It's still hard to know exactly what Denver Broncos team will be getting back at it later this summer: the 6-0 team that started the season, or the one that was, in all honesty, among the very worst in the NFL over the last 10 games of 2009. In that stretch they went 2-8, with one of those wins over lowly Kansas City, and losses to the likes of Washington, Oakland, and that same K.C. team they'd beaten earlier. In that game, they gave up a frightening 44 points to the Chiefs. People always harp on the quarterback situation, but Kyle Orton threw for more than 3,800 yards. He has a great offensive mind calling the shots, and Denver acted properly in stocking the wide receiver corps. No, my question is about the defense, particularly against the run; Denver was 26th in the league against the run. So while they addressed the defensive line, how about some talented youth in the linebacker corps?
Next April's pick, now: Quan Sturdivant, ILB, North Carolina
This is the best interior lineman going into the season. Denver could use a talent upgrade next to D.J. Williams.
If you want to see Kiper's breakdown on the rest of the AFC West, you must be an ESPN Insider.
Insider
Football analyst
ESPN NFL Draft analyst since 1984
Contributes to SportsCenter and ESPN Radio
Writes weekly for ESPN Insider
Kiper's Look Toward 2011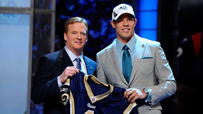 Mel is always going to be looking at the draft first, but he's also taking a close look at how teams have tweaked their personnel heading into camp. Who could be a help, who won't be and what players in the next draft would be nice to have around right now.
Kiper's Offseason Audits
Looking Back at the Draft
Nike Women's Home Game Jersey Kansas City Chiefs Alex Smith #11 Shop »

MOST SENT STORIES ON ESPN.COM