Commentary
Plugging the Holes: NFC North
Important offseason questions about Chicago, Detroit, Green Bay and Minnesota
Originally Published:
February 15, 2010
By
Ned Macey
| Football Outsiders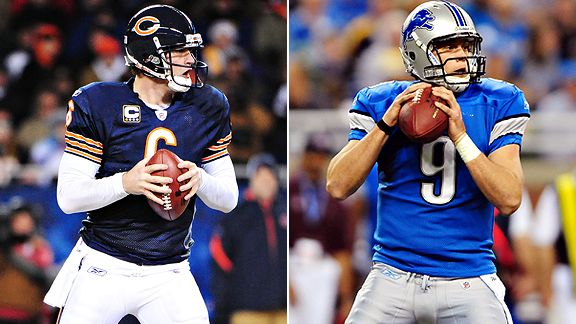 US PresswireJay Cutler and Matthew Stafford both have big questions to answer going into next season.
Football Outsiders continues its "Plugging the Holes" series, in which it targets the offseason issues facing each team in the NFL by division.
Previous editions: AFC West | NFC West | AFC North

Chicago Bears: Can Mike Martz save the Bears' offense?
Five years ago, Mike Martz was considered by some to be the top offensive mind in football. Oh, how times change. He was fired by the 49ers following the 2008 season and got the Bears job only after about a dozen people turned it down, fearful of head coach Lovie Smith's long-term status. Now, Martz is tasked with helping Jay Cutler find the form that led the Bears to trade multiple first-round picks for him only a season ago.
In some ways, the hiring of Martz is downright bizarre. Cutler's primary problems last season were his propensity for interceptions and his lack of protection behind a shoddy offensive line. Cutler threw a league-high 26 interceptions last year and got sacked a career-high 35 times. Martz has long encouraged his quarterbacks to play freely and not fear interceptions, and his focus on deep passing and multiple receivers leads to large numbers of sacks. Jon Kitna got sacked more than 50 times in each of his two years as a starter in Martz's offense. Considering the poor talent on the Bears' offensive line, Cutler will be hit a bunch next year, risking the health of the Bears' largest investment.
Martz's reputation has understandably taken a hit in recent seasons. His tenure as a head coach in St. Louis ended poorly; his Detroit teams never had good offenses; and in San Francisco, the ill-fated J.T. O'Sullivan experiment was a complete disaster. Still, while the Martz addition will not lead to a return of the Greatest Show on Turf, the offense should improve. The 49ers improved from the league's worst offense to a little below average in Martz's only season as the offensive coordinator. In Detroit, his offenses were below-average both seasons, but the Lions still played much better than the year before he arrived or the year after he left.
Martz is far from a panacea, but he should put Cutler in position to have some success. Martz's offenses run up a ton of negative plays, but he does allow his quarterbacks to attack down the field. Cutler has a strong arm that he was not free to use this season, because the Bears were so concerned about his being hit. Additionally, Martz uses running backs well in the passing game, and Matt Forte has proved to be an adept receiver. The Bears' offense will not be good next season, but it should be better.
To read the rest of Football Outsiders' analysis of the NFC North, you must be an ESPN Insider.
Insider
FOOTBALL OUTSIDERS ON ESPN INSIDER
With the Super Bowl in the books, Football Outsiders starts looking ahead to 2010 and the biggest issues every NFL team will be facing.
February 10:
Plugging the Holes - AFC West
Denver Broncos: What went wrong in the second half?
Kansas City Chiefs: Can the Chiefs actually run the 3-4?
Oakland Raiders: Can anyone here play quarterback?
San Diego Chargers: What's happening at running back?
February 11:
Plugging the Holes - NFC West
Arizona Cardinals: Can Matt Leinart be the team's QB -- and does the team even have a choice?
St. Louis Rams: How patient should fans be with the rebuilding process?
San Francisco 49ers : What can stop this team from contending?
Seattle Seahawks: Do the Seahawks really have three first-round picks in 2010?
February 12:
Plugging the Holes - AFC North
Baltimore Ravens: Is there trouble ahead for the Baltimore defense?
Cincinnati Bengals: Will the Bengals complete a forward pass in 2010?
Cleveland Browns: Who is running things here?
Pittsburgh Steelers: Are the Steelers still the Steelers?
February 15:
Plugging the Holes - NFC North
Chicago Bears: Can Mike Martz save the Bears offense?
Detroit Lions: Is Matthew Stafford ready to take the next step?
Green Bay Packers: Is the Green Bay pass defense good enough to get to the Super Bowl?
Minnesota Vikings: Will the Vikings aging Pro-Bowler retire or return?
February 16:
Plugging the Holes - AFC East
Buffalo Bills: How does this team fit its personnel into a 3-4 defense?
Miami Dolphins: Can Mike Nolan do for this team what he did for the 2009 Denver Broncos?
New England Patriots: Can the Pats come to an agreement with Vince Wilfork?
New York Jets: Will the defense be as good in 2010?
February 17:
Plugging the Holes - NFC East
Dallas Cowboys: Can the team keep up its run of injury luck?
New York Giants: Can Perry Fewell fix this defense?
Philadelphia Eagles: Which direction should the team go at QB?
Washington Redskins: What type of situation did Mike Shanahan walk into here?
February 18:
Plugging the Holes - AFC South
Houston Texans: Can Steve Slaton bounce back?
Indianapolis Colts: Can the Colts fix their running game?
Jacksonville Jaguars: What are the Jags doing at quarterback?
Tennessee Titans: Can Tennessee rebuild their defense?
February 19:
Plugging the Holes - NFC South
Atlanta Falcons: Can Jamaal Anderson step up on defense?
Carolina Panthers: Is it time to rebuild?
New Orleans Saints: Does Darren Sharper deserve the franchise tag?
Tampa Bay Buccaneers: How does this team help Josh Freeman develop?

MOST SENT STORIES ON ESPN.COM