Commentary
Todd Collins' life as a backup QB
It's not glamorous, but being No. 2 on Sundays can be very important
Originally Published:
November 4, 2010
By
Alyssa Roenigk
| ESPN The Magazine
This story appears in the November 15, 2010 issue of ESPN The Magazine.
Todd Collins is mocking you.
You lean in. He leans in. You tilt your head right. He tilts his left. You speed up your questions. He speeds up his answers. If you were to put your left foot in and shake it all about, well, you know what would happen next.
Collins' current and former teammates (there are a lot of them) know this jokester well. Over his 16-year NFL career, which now finds him in Chicago, he has perfected impersonations of his coaches (Marv Levy, Dick Vermeil, Joe Gibbs, Jim Zorn), most of his family members and a solid collection of elected officials (Joe Biden, Bill Clinton, Boston mayor Thomas "Mumbles" Menino). He does them in meeting rooms, on the field and in postgame locker rooms. It helps combat the monotony of practice and workouts and fill in the space between a loss and the long ride home. It also takes the edge off his job, certainly one of the most underappreciated in sports: backup QB.
For a behind-the-scene look at the life of a backup QB, become an ESPN Insider!
Insider
ESPN The Magazine senior writer
Alyssa Roenigk is a senior writer for ESPN The Magazine and ESPN.com whose assignments covering action sports, Olympics and football have taken her to six continents and caused her to commit countless acts of recklessness. In 2012, she joined the X Games TV broadcast team and ordered additional pages for her passport. Follow her on Twitter at @espn_alyssa.
ESPN The Magazine: November 15, 2010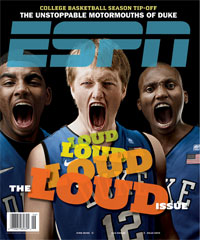 Check out ESPN The Magazine's November 15, 2010 issue -- the Loud Issue -- below.
Features
Nike Men's Home Game Jersey Pittsburgh Steelers Lawrence Timmons #94 Shop »

MOST SENT STORIES ON ESPN.COM