Commentary
It isn't Don Coryell's time for Hall
Popular sentiment may be high for Coryell, but another innovator must come first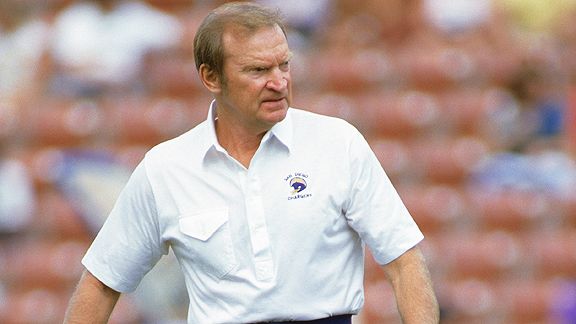 Rick Stewart/Getty ImagesCoryell's HOF status is a much-debated topic.
In 2001, at his Hall of Fame induction, legendary Pittsburgh Steelers WR Lynn Swann famously said, "If [my induction] is the greatest hour of my life, then I would tell you at this moment, this is only a half-hour. It'll be the greatest hour when I can stand and sit in that back row and John Stallworth is wearing a gold jacket, making this speech." Swann's pitch worked, as Stallworth was voted into the Hall the next year.
This happens often in the National Football League: The induction of one legend into Canton serves as the beginning of a groundswell for another, not-yet-enshrined legend.
It's the same kind of pitch that could be made in the case of the late Don Coryell, the influential former coach of the San Diego Chargers and St. Louis (now Arizona) Cardinals who died in July. John Madden, Dan Fouts and Kellen Winslow all touted Coryell's HOF candidacy at his funeral and that sentiment is likely to have some carryover to this weekend's ceremonies.
There are certainly many reasons Coryell's candidacy has merit: He turned a moribund St. Louis franchise around (in 1974 it made the playoffs for the first time in 26 years), his 1979 Chargers team ended a 14-year playoff drought for that franchise and Coryell is one of only 38 NFL coaches to win 100 or more games.
If those items weren't enough, Coryell was also one of the great innovators in the history of professional football. His vertical passing schemes were instrumental in changing the NFL from its run-heavy philosophies of the early 1970s to the pass-heavy game plans we see today. Few men can say they helped change the course of an entire sport, and Coryell was one of them; among those influenced by him include Chicago Bears OC Mike Martz and Dallas Cowboys OC Jason Garrett.
Even with all of these accomplishments backing him, the Hall of Fame voters have not inducted Coryell. In fact, they haven't once voted him into the final round of the induction nomination process.
So what is holding the voters back? The most likely answer is that they realize putting Coryell into the Hall of Fame would actually lower the bar in many important ways for future candidates.
For a deeper look at where Coryell stands among coaches, plus why one great innovator of the past must precede Coryell into the Hall, you must be an ESPN Insider.
Insider
2010 PRO FOOTBALL HALL OF FAME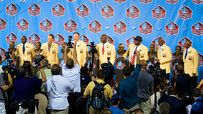 On Aug. 7, the Pro Football Hall of Fame welcomed seven new members: Emmitt Smith, Dick LeBeau, Russ Grimm, John Randle, Rickey Jackson, Jerry Rice and Floyd Little.
HOF page
|
Speeches
|
Photo Gallery
NEWS/COMMENTARY/BLOG POSTS
TRAVEL
VIDEO
PHOTOS
Nike Men's Home Game Jersey St. Louis Rams James Laurinaitis #55 Shop »

MOST SENT STORIES ON ESPN.COM