Commentary
Fool's gold
When it comes to trading up in the draft, fortune disfavors the bold
Updated:
April 20, 2012, 4:26 PM ET
By
Peter Keating
| ESPN The Magazine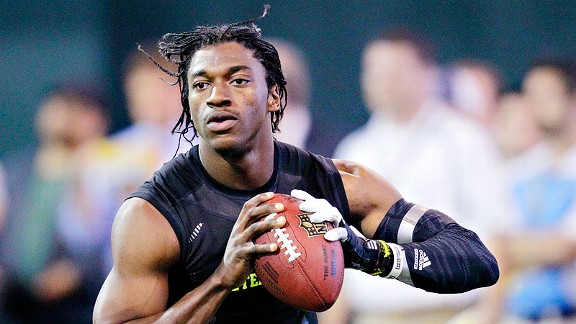 AP Photo/Tony GutierrezDan Snyder's decision to pick RG3 in the first round of the draft might be a reckless move.
ABOUT 15 MINUTES into the NFL draft, the Redskins will probably select Robert Griffin III at No. 2 overall. By the time Washington has another first-round pick, Joe Biden will be running for president and Rio de Janeiro will be gearing up for the Olympics. Most fans and analysts seem to think the Skins are being smart about their future -- that it's worth giving up not only their first- and second-rounders this year but also their top selection in 2013 and 2014, all to move up four spots to get a shot at a franchise QB.
This is craziness. More than any other reckless move Dan Snyder has made the past few years, this trade is a sign that Washington's owner still hasn't learned about true football value. In fact, the Skins have botched the two most important rules of draft-day dealing: Trade down this year, or into next year's draft, and you win; trade up this season, or into this year's draft, and you lose. It's really that simple.
To find out why the second round has a bigger payoff, you must be an ESPN Insider.
Insider
Peter Keating is a senior writer at ESPN The Magazine, where he covers investigative and statistical subjects. He started writing "The Biz," a column looking at sports business from the fan's point of view, in 1999. He also coordinates the Magazine's annual "Ultimate Standings" project, which ranks all pro franchises according to how much they give back to fans. His work on concussions in football has earned awards from the Deadline Club, the New York Press Club and the Center for the Study of Sport in Society.
ESPN The Magazine: April 30, 2012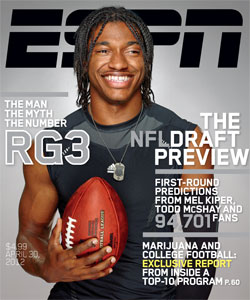 FEATURES IN NFL DRAFT PREVIEW

COLUMNS

PLAYBOOK

MOST SENT STORIES ON ESPN.COM