Commentary
Final 2011 NFL mock draft: 5.0
In his final mock of the 2011 NFL draft season, Mel has a familiar name at the top
UPDATE: The final mock draft has been updated with some new picks and information as of Thursday afternoon.
It's a crazy year. Based on what I know, I was tempted to wait all night. Things are still changing. Boards are shifting. But every year, you always wait for that first domino to fall. Teams can have their boards set up, and you may have a pretty good idea of what they look like, but it doesn't matter if you have Polaroids of all 32 boards sitting in front of you when that first trade happens or when that first against-the-grain gut call gets made. You tear up the mock and start to enjoy the spectacle and the unpredictability of it all. This year, given all the combinations and trade options in play, I feel like starting that first rip before the first pick is announced. But that's also what makes this fun.
In the end, it comes down to the players. Despite the labor mess, a lot of dreams will come true this week, and it's a thrill to get to be a part of that scene. Below is my last look at how I can imagine things going down based on team needs, evaluations, many sources and, of course, my own grades.
Enjoy the draft, and keep an eye out for my daily updates on picks I liked or didn't like, and the grades file when it's all said and done. As always, an asterisk denotes non-seniors. My final 2011 Big Board is here for a value reference.
The 2011 NFL Draft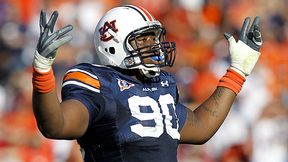 Scouts Inc. and Mel Kiper have Nick Fairley and all the top prospects covered from every angle as the pre-draft process unfolds.
Draft Tracker
|
Kiper Home
|
Draft Blog
Mel Kiper
Todd McShay's projections
Scouts Inc.'s draft coverage


MOST SENT STORIES ON ESPN.COM