Commentary
2011 NFL Mock Draft 3.0
Blaine Gabbert rises in the latest mock, as a need pick who offers trade leverage
The NFL combine has both underscored a lot about what we already knew, and shifted some prospects in the eyes of evaluators. Combine that with hints about a potential labor deal to come, and it makes this mock draft perhaps the most interesting thus far. In my comments, you'll see that how teams target certain prospects isn't just an indicator of need, but also one of leverage. If a labor agreement is reached, I believe you'll see trade flexibility that simply hasn't existed in previous years.
The biggest shift is at the top of the draft, where right now I see need balanced with leverage. Teams are now forced to not only consider the best player, but how much teams covet their draft position. Keep that in mind as you read -- and then comment. As always, an asterisk denotes non-seniors.
The 2011 NFL Draft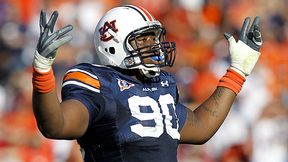 Scouts Inc. and Mel Kiper have Nick Fairley and all the top prospects covered from every angle as the pre-draft process unfolds.
Draft Tracker
|
Kiper Home
|
Draft Blog
Mel Kiper
Todd McShay's projections
Scouts Inc.'s draft coverage


MOST SENT STORIES ON ESPN.COM