Commentary
Teams should worry about Julio Jones
Playmaker Score 2.0 projects Jones as only the 13th-best WR in the 2011 class
Updated:
March 30, 2011, 9:05 AM ET
By
Vince Verhei
| Football Outsiders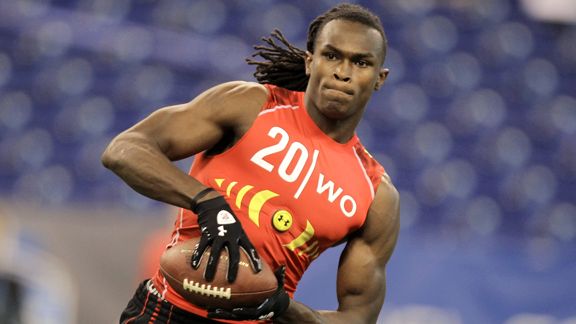 AP Photo/Michael ConroyJulio Jones' combine performance was impressive, but he doesn't project well as an NFL receiver.
Alabama's Julio Jones stole the show at the NFL scouting combine. At 6-foot-3 and a rock-solid 220 pounds, he ran a 4.39-second 40-yard dash, posted a 38½-inch vertical leap, and shined in receiving drills. His performance had some observers predicting he'd be the first wide receiver off the board in April's draft.
Before any team selects Jones, though, they need to take a close look at what he did on the field. In three seasons at Alabama, Jones didn't dominate the way a first-rounder should.
Predicting NFL success based on NCAA statistics is a tricky proposition. Many players perform in radically different environments from their peers, with extreme variances in surrounding talent, offensive scheme, quality of opposition and weather conditions. For several reasons, it's a lot easier to catch 50 passes at Texas Tech than it is at Georgia Tech. When we account for these factors, though, we find definite trends in collegiate numbers that forecast professional fortune.
To read more about why teams should be hesitant to draft Julio Jones and why A.J. Green is a much safer pick, you must be an ESPN Insider.
Insider
Insider on NFL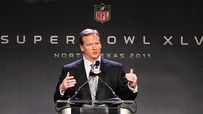 THE LATEST OFFSEASON CONTENT
Apr. 26: Scouts Inc.: NFC North team needs
Apr. 26: Schefter: McNabb fits with Vikings
Apr. 25: Scouts Inc.: NFC East team profiles
Apr. 25: Joyner: Fairley's stock should rise

Week of Apr. 18
Apr. 24:
Scouts Inc.: NFC West team needs
Apr. 23:
Scouts Inc.: NFC South team profiles
Apr. 22:
Schefter: Browns should draft Jones
Apr. 21:
Scouts Inc.: AFC North team needs
Apr. 20:
McShay Mock Draft 6.0
Apr. 20:
Scouts Inc.: AFC West team needs
Apr. 19:
FBO: Teams benefitting from lockout
Apr. 19:
Scouts Inc.: AFC East team needs
Apr. 18:
Schefter: Who the Jets should draft
Week of Apr. 11
Apr. 15: Kiper: Time to replace Brady, Manning?
Apr. 14: Joyner: Amukamara's stock is too high
Apr. 12: FBO: Forecasting NFL QB success
Apr. 11: Schefter: Fairley's stock is dropping

Week of Apr. 4
Apr. 8:
Schefter: Red flags surround Baldwin
Apr. 7:
Joyner: Why Julio Jones tops A..J. Green
Apr. 6:
Kiper: Mock Draft 4.0
Apr. 5:
FBO: How pro days impact 40 times
Apr. 4:
Schefter: Dalton could be a first-rounder
ESSENTIAL LINKS
NFL Rumor Central
Get news and rumblings before anyone
Adam Schefter's Blog
Weekly mailbags on hot topics
NFL Draft Blog
A look towards April 2011
Mel Kiper
Your source for the 2011 NFL draft
NFL Mock Draft Central
The place to go for the latest mock drafts

MOST SENT STORIES ON ESPN.COM