Commentary
Speed Score doesn't favor Ingram
The Alabama running back's Speed Score could hurt his draft stock
Originally Published:
March 10, 2011
By
Bill Barnwell
| Football Outsiders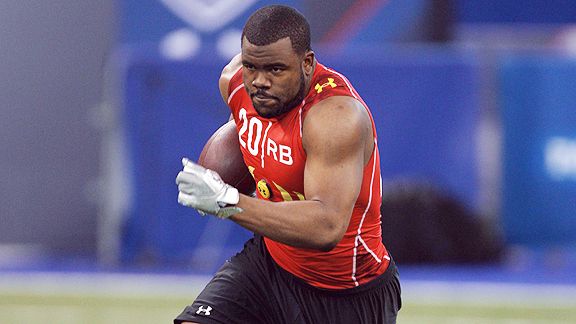 Brian Spurlock/US PresswireMark Ingram did not run well at this year's combine. Will he be an effective NFL back?
Although it was created to help assist in the objective evaluation of NFL prospects, the only thing the combine usually creates is confusion. With a variety of drills that have murky relationships to actual game-day activities, fans and scouts in the corner of a particular player can point to any positive performance as a sign of success. What does it mean that a defensive end had the eighth-best short shuttle time? Who cares if a tight end benched 225 pounds 25 times? Without context, they are just numbers.
So at Football Outsiders, we built in context. We've taken combine numbers and compared them to the future performance of those players to see whether they have any meaningful value in predicting success. No combine figure is ever going to be a foolproof indicator, but we have found that some drills are worth paying attention to at certain positions. And by making an adjustment to one drill -- the 40-yard dash -- for running backs, we came upon a metric that has a surprising level of relevance: Speed Score.
The concept behind Speed Score is simple: Not all 40 times are created equal. When a 225-pound player runs a 4.48 40-yard dash, it's a lot more impressive than that same 40 time from player who weighs 185. On top of that, the range of 40 times for running backs is so small (from about 4.2 seconds to 4.9 seconds) that even a miniscule difference can be valuable. Times of 4.41 and 4.51 might look like roughly similar, but in the NFL holes can close up just that quickly.
To read more about this class of running backs, who could be a sleeper and who could succeed in the NFL, you must be an ESPN Insider.
Insider
Insider on NFL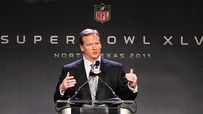 THE LATEST OFFSEASON CONTENT
Apr. 26: Scouts Inc.: NFC North team needs
Apr. 26: Schefter: McNabb fits with Vikings
Apr. 25: Scouts Inc.: NFC East team profiles
Apr. 25: Joyner: Fairley's stock should rise

Week of Apr. 18
Apr. 24:
Scouts Inc.: NFC West team needs
Apr. 23:
Scouts Inc.: NFC South team profiles
Apr. 22:
Schefter: Browns should draft Jones
Apr. 21:
Scouts Inc.: AFC North team needs
Apr. 20:
McShay Mock Draft 6.0
Apr. 20:
Scouts Inc.: AFC West team needs
Apr. 19:
FBO: Teams benefitting from lockout
Apr. 19:
Scouts Inc.: AFC East team needs
Apr. 18:
Schefter: Who the Jets should draft
Week of Apr. 11
Apr. 15: Kiper: Time to replace Brady, Manning?
Apr. 14: Joyner: Amukamara's stock is too high
Apr. 12: FBO: Forecasting NFL QB success
Apr. 11: Schefter: Fairley's stock is dropping

Week of Apr. 4
Apr. 8:
Schefter: Red flags surround Baldwin
Apr. 7:
Joyner: Why Julio Jones tops A..J. Green
Apr. 6:
Kiper: Mock Draft 4.0
Apr. 5:
FBO: How pro days impact 40 times
Apr. 4:
Schefter: Dalton could be a first-rounder
ESSENTIAL LINKS
NFL Rumor Central
Get news and rumblings before anyone
Adam Schefter's Blog
Weekly mailbags on hot topics
NFL Draft Blog
A look towards April 2011
Mel Kiper
Your source for the 2011 NFL draft
NFL Mock Draft Central
The place to go for the latest mock drafts

MOST SENT STORIES ON ESPN.COM