Commentary
Kiper's Mel Bag: Best offseasons
The Lions and Jets are among teams with the best offseasons. Carolina? Not so much
Updated:
May 20, 2010, 5:10 PM ET
By
Mel Kiper Jr.
| ESPN Insider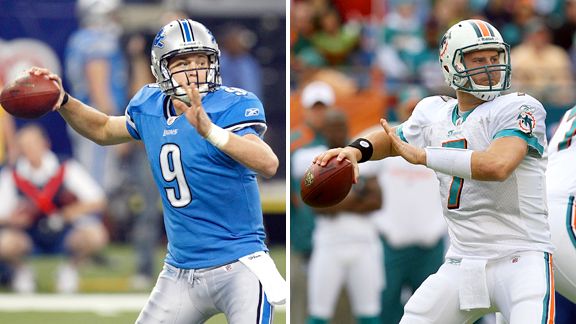 Getty ImagesBoth Matthew Stafford and Chad Henne will have better arsenals of options in 2010.
Every year when I do my NFL draft grades, I'll hear from an endless stream of people. I have GMs that'll tell me I'm underestimating guys they took, coaches that tell me how they might use a player in a different role and fans that think I'm just too pessimistic. (There are people who agree, too, for the record.) This year, one area people complained about a little more was a case like the Washington Redskins, where they traded picks for Donovan McNabb. Why wasn't that a bigger part of the Redskins' draft grade, many asked? After all, surely McNabb will have a bigger impact than any player taken at No. 37 would have, right?
I agree, to an extent. On one hand, McNabb can truly help that team, and immediately. On the other, Washington held onto its No. 4 pick, didn't trade down, and if Trent Williams doesn't work out -- I'd be surprised if he didn't -- the team essentially got nothing from a deep draft. With the direction things are going -- for one, I'd expect the three-day draft format to open up the trade possibilities even more -- I may adjust how I deal out the grades with the dealing in mind. Perhaps it can't be overtly draft-specific, and must do more to factor in the whole offseason; the body of work as it relates to the draft.
With that in mind, here's a bone. Questions piled up on offseason winners and losers, and I have some thoughts.
To find out who had the best and worst offseasons, who will be better, Stafford or Sanchez, early picks to improve win totals the most, and more, become an ESPN Insider.
Insider
Football analyst
ESPN NFL Draft analyst since 1984
Contributes to SportsCenter and ESPN Radio
Writes weekly for ESPN Insider
Post-Draft NFL Coverage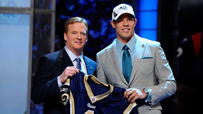 255 picks up, 255 picks down -- from Sam Bradford to Timothy Toone. So, on the path to September, what have we learned -- and what do teams still need?
Draft Grades
Football Outsiders

MOST SENT STORIES ON ESPN.COM