Commentary
Mel Kiper's first 2011 Big Board
A trio of quarterbacks dot the top 10 of the first 2011 Big Board
A little perspective to start. Last year, back before any games in the college season had even been played, my first Big Board came out. Looking back, six of the players in that top 10 actually went in the top 10 of the recent draft. A few guys fell for various reasons. Whether it was Carlos Dunlap's judgement, a really odd interview process for Dez Bryant, or simply bad tape for Taylor Mays, some guys didn't remain that high. It happens every year.
But others, like Sam Bradford (No. 1), Ndamukong Suh (No. 5), Eric Berry (No. 2) and Gerald McCoy (No. 4) I liked early, and personnel folks clearly saw the same tape. So as I release the first Big Board for this year, know I always do it with a mixture of confidence, but also an assumption that I'll be wrong. Be it through injuries, lack of growth, off-the-field stuff, or just a desire to return to college -- I liked Bradford two years ago, too -- this is sure to change. Because of that, I also added a note about players I see as quite volatile in terms of this list.
But while there's a lot of time for the stories to be written, here's a first look at the players already in focus for next year's draft. Remember, this is not about draft position. This is about value. Don't confuse the two. I should also note: current size measurements are what I have from my sources on a guy. They are not official -- and in some cases, will even change as the weight room factors in this summer. (Asterisk denotes underclassmen.)


QB
6-3
226

Analysis: All the physical tools -- size, arm, footwork. Accuracy should improve.

QB
6-4
235

Analysis: Great arm, NFL smarts, solid footwork. Protoypical size and intangibles.

DE
6-4
267

Analysis: Still just 19, freakish athlete; still developing consistency.

WR
6-4
207

Analysis: The profile of a No. 1 receiver. Great size and speed, instinctive, great hands.

DE
6-3
282

Analysis: Most consistent, complete DE here. Solid pass-rusher, steady against run.
To see who climbed and who fell on the latest Big Board, you must be an ESPN Insider.
Insider
Football analyst
ESPN NFL Draft analyst since 1984
Contributes to SportsCenter and ESPN Radio
Writes weekly for ESPN Insider
The 2011 NFL Draft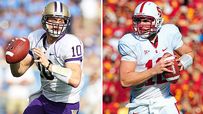 One draft just ended -- so it's time to start talking about the 2011 NFL draft (dates currently undetermined). Will another QB go No. 1? There are some nice possible choices in Pac-10 QBs Jake Locker and Andrew Luck. And so it begins.
VERY EARLY PROJECTIONS


MOST SENT STORIES ON ESPN.COM