Commentary
No Ryan or Brohm is a potential big gain for others
The talent level at the Senior Bowl is still off the charts even though Matt Ryan and Brian Brohm decided to back out and Scouts Inc.'s Todd McShay breaks down who has the most to gain -- and lose -- this week.
Updated:
January 22, 2008, 3:30 PM ET
By
Todd McShay
| Scouts Inc.
MOBILE, Ala. -- The Senior Bowl took a huge hit when Louisville QB
Brian Brohm
made a decision over the weekend not to participate in this year's game. The news comes less than a week after Boston College QB
Matt Ryan
-- the other supposed headliner -- told Senior Bowl officials thanks, but no thanks.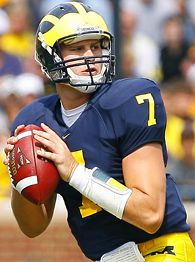 Leon Halip/WireImage.comMichigan's Chad Henne has a chance to really shine with the decision of some top QBs to bow out of the Senior Bowl.
While NFL scouts are less than thrilled with Ryan, there seems to be much more frustration regarding Brohm's handling of the situation. Instead of potentially capitalizing on an opportunity to stand out as the premier quarterback talent in this year's game, Brohm looks like an immature follower who reacted to Ryan's move and, in his late withdrawal, showed no regard to the hardworking game organizers.
It remains to be seen if Ryan's and Brohm's decisions will have any bearing on their eventual draft spots. One thing is certain -- they've created a window of opportunity for other first-day quarterback prospects such as Kentucky's Andre' Woodson and Michigan's Chad Henne to shine in front of hundreds of NFL general managers, coaches and scouts.
To continue reading this article you must be an Insider
Insider
Scouts Inc.
ESPN College Football and NFL Draft Analyst
Joined ESPN in 2006
Played quarterback in high school and was a backup QB for the University of Richmond.

The top college seniors gather every January in Mobile, Ala., to prove themselves in front of NFL scouts, coaches and teams at the Senior Bowl. Follow their progress as ESPN.com provides complete coverage of the first major stop on the road to the 2008 NFL draft.
Features
•
Low: Smith's tragic past helping shape his future
•
McShay: Martz not helping Woodson
•
Low: Benedict's long road to Mobile
•
Low: Schmitt making noise
•
Low: Notes from Mobile
•
Low: Brennan looking to rebound
•
Low: It's a USC reunion in Mobile
•
McShay: Breaking down the USC nine
•
McShay: Players to watch this week
Quarterback evaluations
•
Erik Ainge
•
John David Booty
•
Colt Brennan
•
Joe Flacco
•
Chad Henne
•
Andre' Woodson
Scouts Inc.
•
McShay: Who helped/hurt themselves most
•
Position-by-position wrapup
•
Monday practice buzz
•
Tuesday practice buzz
•
Wednesday practice buzz
•
Thursday practice buzz
Rosters
•
Senior Bowl North roster
•
Senior Bowl South roster
SportsNation
•
Monday's chat wrap
•
Tuesday's chat wrap
•
Wednesday's chat wrap
•
Thursday's chat wrap
Podcast
•
Scouts Inc. breaks down the Senior Bowl crop

Complete 2008 NFL draft coverage

MOST SENT STORIES ON ESPN.COM