Commentary
Virginia DE Long more than a handful for offensive linemen
Originally Published:
August 27, 2007
By
Todd McShay
| Scouts Inc.
Game plan-changing defenders are hard to come by. In fact, there typically are only a few per conference in a given season. But make no mistake -- offensive coordinators know one when they see one. A game-changer is a defender blessed with the rare combination of physical and mental skills to throw off the rhythm of an entire offense. Spotting such a talent is the easy part. Designing a scheme to neutralize him is the challenge. Here's a look at the 10 defenders who cause the most game plan-changing in college football:
1. Chris Long, DE, Virginia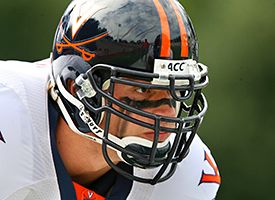 Andy Mead/Icon SMIVirginia's Chris Long draws attention from all offenses.
Long has notched just seven career sacks in three seasons, which is largely why he's overlooked on most preseason All-America teams. However, no defender requires more attention than Howie's son. Long spends most of his time lined up across from the offensive tackle's inside shoulder as defensive end in Virginia's 3-4 defensive scheme. Instead of working off the edge -- like most ends on this list -- Long's job is to maintain "gap discipline" inside. Most players at his position simply take on blockers and allow others to clean up the mess. But Long regularly performs both jobs on his own. He constantly requires at least double-team attention (usually from the guard and tackle), and Long often uses his exceptional combination of power and quickness to split the double team and penetrate the backfield. Once he does, no defensive lineman in the country gives a better effort in pursuit of the ball carrier.
To continue reading this article you must be an Insider
Insider
Scouts Inc.
ESPN College Football and NFL Draft Analyst
Joined ESPN in 2006
Played quarterback in high school and was a backup QB for the University of Richmond.
2007 College Football Preview
The long wait for the start of the 2007 college football season is finally over. Get ready for the season with an in-depth look at the teams, trends, players and coaches. Index

Features
• Forde: Arkansas' favorite son also rising
• Forde: Welcome to Trickeration Nation
• Albright: Glanville has Portland State all shook up
• Maisel: Boise State part of quiet revolution
• Edwards: BCS system needs update


• Forde: QBs face burden of proof in '07
• Schlabach: Biggest shoes to fill this season
• Maisel: (Southern) State of the Game
• Schlabach: Hot or Not for 2007
Awards Watch
•
Ivan Maisel's preseason All-America team
•
Heisman Watch: Voters go Hog wild
•
SportsNation: Rank the Heisman contenders
Fearless Forecasts
•
Experts: Conference title projections
•
Maisel/Schlabach: Bowl predictions
•
McShay: Don't sleep on these teams

•
Games to watch:
National
|
Conference
Campus Confidential
•
Forde: Woodson stepping out of the shadow
•
Schlabach: Shhhh! Uncovering 2007's secrets
•
McShay: Seven secrets from the film room

•
Feldman: Saturday's secret agents revealed
•
EA Sports: Trick play simulations
•
Arkansas: Wildhog formation
•
Boise State: Statue of Liberty
•
LSU: Flea flicker
•
Texas: Wide receiver pass
•
USC: Halfback pass
ACC Features
•
Schlabach: ACC needs quality Miami, FSU
•
Schlabach: Wright, Freeman still battling at Miami
•
Schlabach: Wake sets bar high for encore
•
Schlabach: Five ACC predictions
Big East Features
•
Maisel: What's next for the Big East?
•
Maisel: USF's QB exudes old school cool
•
Maisel: Five Big East predictions
Big Ten Features
•
Schlabach: Michigan seniors return on a mission
•
Schlabach: Downsized Hill means supersized play
•
Schlabach: Big Ten at the crossroads
•
Schlabach: Five Big Ten predictions
Pac-10 Features
•
Forde: Now is the time for UCLA
•
Forde: Five Pac-10 predictions
•
Maisel: After long wait, Turner ready for stardom
•
Maisel: Ten Little Trojans running backs
•
Feldman: DeSean Jackson's born identity

SEC Features
•
Maisel: Saban snapshot reveals double feature
•
Higgins: Spurrier, Gamecocks thinking big
•
Schlabach: SEC balance of power shifts East
•
Schlabach: Five SEC predictions
Coaching Corner
•
Schlabach: Coaches on the hot seat
•
Schlabach: Rise of the assistants
•
McShay: Assistant coaches on the rise

•
McShay: Position coaches who deliver

Rule Changes
•
Kickoffs, timing rules highlight changes
•
McShay: Changes put premium on specialists

•
College Football Live: Impact of kickoff rule

•
Joe Tiller: Kickoff changes raise safety issues

•
College Football Live: Matter of time

Campus Call
ESPN.com will hit eight practice sessions to get an early pulse on the season. Check out what's happening on campus.
•
Aug. 7:
Gators looking for bite on D
•
Aug. 6:
ND's Weis plays respect card
|
McKnight makes USC debut
•
Aug. 5: Brown resolute in face of Texas' troubles
•
Aug. 4: WVU has speed to burn
•
Aug. 3: Taylor made Jacket
•
Aug. 2: Hokies begin road back to normalcy
•
Aug. 1: Report day is still a thrill for Tuberville
MORE COLLEGE FOOTBALL HEADLINES

MOST SENT STORIES ON ESPN.COM