Commentary
Law & Order: OSU
Buckeyes brass are preparing to face the NCAA's Committee on Infractions this August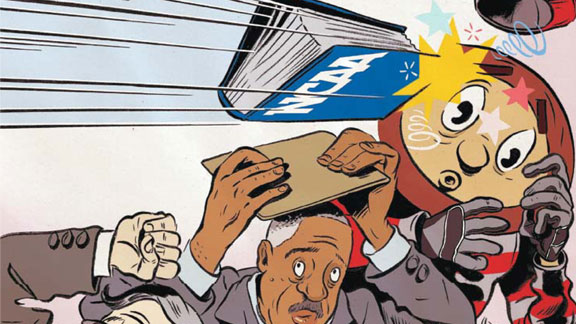 Illustration by Zohar Lazar for ESPN The MagazineThe NCAA is expected to throw the book at Ohio State officials, including AD Gene Smith, in the school's hearing later this summer.
This story appears in the June 27, 2011 issue of ESPN The Magazine.
IT'S NOT A COURTROOM. That's what Ohio State must remember. Oh, it might feel like one on Aug. 12, when the Buckeyes brass and former coach Jim Tressel are scheduled to testify before the NCAA Committee on Infractions (COI). But it's not. There isn't wood paneling or bench seating. Nobody dons a robe or wields a gavel. Hearsay is allowed, but witnesses aren't called. No oaths taken, no innocence presumed, no Fifths invoked. It'll feel more like a trip to the principal's office than a trial. After all, everyone knows OSU broke rules. As one veteran attorney for coaches says, "The hearing is part of the punishment. You don't win. You only hope to come out in one piece." The event will unfold in a fluorescent-lit, cheap-tableclothed, over-air-conditioned Indianapolis hotel ballroom.
That was one of the funnier takeaways after I attended a mock hearing that the NCAA hosted in May for media: The event's seriousness is offset by the drab venue. Tables are arranged in a horseshoe, similar to, well, the Horseshoe, OSU's football stadium. The COI -- an unpaid group of 10 academics, lawyers and athletics officials that serves as the NCAA's judge and jury -- will sit at the head table, with the NCAA enforcement staff to the left and the Buckeyes administration, with a few lawyers behind them, to the right. A two-person table at the other end will house Tressel and his attorney. Each party will have a pitcher of water and a microphone. All that's at stake are careers and millions of dollars, not to mention the credibility of the COI, which seems to come into question after each ruling.
To read more about what Ohio State's defense might look like, become an ESPN Insider today.
Insider
ESPN The Magazine senior writer
Seth Wickersham joined ESPN The Magazine after graduating from the University of Missouri. Although he primarily covers the NFL, his assignments also have taken him to the Athens Olympics, the World Series, the NCAA tournament and the NHL and NBA playoffs.
ESPN The Magazine: June 27, 2011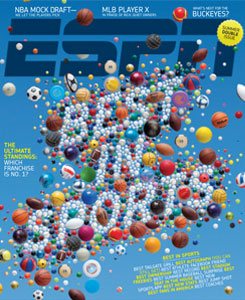 Features
Columns & Go/Play
MORE COLLEGE FOOTBALL HEADLINES