Commentary
Thrown for a loss
Xavier Crawford proves being the nation's top recruit doesn't always spell success
Updated:
February 2, 2011, 11:50 PM ET
By
LaRue Cook
| ESPN The Magazine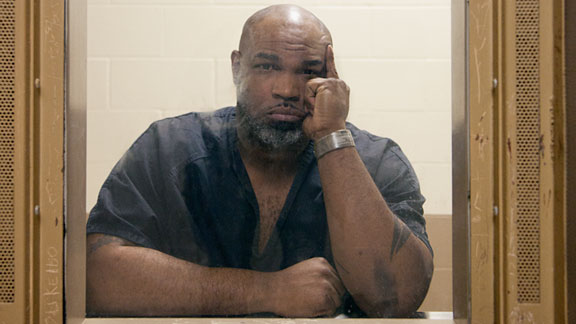 Sian Kennedy for ESPN The MagazineOnce the No. 1 recruit in the country, Crawford now resides in the Shelby County Jail.
Xavier Crawford bulldozes his way into the end zone from 11 yards out for the deciding score against Florida, and the hostile Swamp crowd goes silent. The X-Man and his unranked Memphis State Tigers are about to accomplish the unthinkable: Topple Emmitt Smith's Gators and the nation's top-ranked defense. Crawford trots back to the sideline and says to his teammates, "I told you so. I told you if you blocked for me we could beat these guys." As the clock ticks to zero, the scoreboard reads Memphis 17, Florida 11. Crawford is basking in the boos -- and then suddenly wakes up. His cell has never seemed smaller.
To most, either end of this spectrum, the dream or the nightmare, would be an existence in some warped parallel universe. But for Crawford, the nation's top high school football recruit in 1988, neither end is fiction. And today is just another day on the wrong end of the scale.
The Monday morning after Christmas means only a skeleton staff is on duty in Shelby County Jail, an imposing brick-and-glass, seven-story structure in western Tennessee near the banks of the Mississippi River. Crawford, Inmate 9106464 to the guards inside these walls, is walked to greet his interviewer without handcuffs and the meeting is face-to-face, instead of behind a wall of glass. And what's evident is how much his plight has ravaged his once chiseled frame.
It's not just that Crawford, who is already serving eight years for a probation violation, could face a longer prison sentence if convicted on charges of aggravated rape, aggravated kidnapping and violation of the sex offender law, but the city's one-time favorite son has lupus. He takes steroids to battle the pain in his joints, and the former blue-chip prospect looks as though he hasn't lifted a weight in a decade. Less than three months from 41, Crawford is scheduled to go before the grand jury in April. A conviction could add as many as 50 more years, a life sentence.
---
The legend of the X-Man began in earnest in 1985 when Crawford was a 5-foot-10, 200-plus-pound sophomore terror who manned the backfield for Memphis' Trezevant High School. Crawford was, in essence, a one-man first-down machine. He averaged more than 11 yards per carry and racked up 2,330, a county mark that still stands. He would go on to set county career records for attempts (772), yards (6,784) and touchdowns (83). Scouts saw a potent mix of speed and power. Others saw an opportunity to prey on an easy mark.
The self-described "immature kid" says he didn't know whom to trust. "My senior year, one of the opposing players said, 'Hey, X, you see that guy standing on the sideline? If you score another touchdown, he's going to kill you,'" Crawford says of the game when he broke the county's touchdown record. "I was like, 'Get out of here.' Then the guy opened his coat and had a shotgun. Police arrested him, but I was always in a situation where I didn't know what was going to happen."
"

My senior year, one of the opposing players said, 'Hey, X, you see that guy standing on the sideline? If you score another touchdown, he's going to kill you.'

"
Xavier's football talents had always gotten him noticed, but now even his own father caught his eye. Beverly Pearson, 59, had raised the couple's twin sons and daughter, although, as X-Man's fame was growing, Xavier's father started becoming a regular presence in his life for the first time. Eddie Crawford had largely been just a face on TV, a.k.a., the small-time pro wrestler called The Snowman.
Both parents had their differences, but both say that when it came time for Xavier to pick a college the hope was that he would opt for life away from the vices of Memphis. But he shunned the major programs for an independent that hadn't made a bowl game since 1971. Ask him why and he starts walking through a hall of mirrors, unsure which answer is the one the man looking back believes. "Ole Miss, UCLA and Oklahoma wanted me," says Crawford, who had a son his senior year.
Xavier and twin brother Travis, who was also a talented receiver for Trezevant, made a joint visit to Ole Miss, and Beverly loved the idea of moving her two boys to Oxford, a sleepy college town isolated from the street life of Memphis. For the brothers, though, the movies had made Mississippi into a Rebel-flag-waving, bigoted state lost in the riots of the 1960s. "I can't say we had a bad visit, but that was around the time 'Mississippi Burning' came out. It didn't sit too well with us," says Travis, who now works as a supervisor at a nearby chemical plant in Olive Branch, Miss. "Now that I'm older, I see what we thought we knew wasn't the case. I wish we would've gone there." Ironically, the perils of Memphis wound up being worse than the perils of Mississippi.
From 1973 to 1995, Memphis State had no conference affiliation. "Memphis was the last school to recruit me because they felt they didn't have a chance," says Crawford. "I tried to go pro out of high school, but the NCAA said that I had to go at least two years before the draft. I started weighing options: I'm from Memphis, I'm well known here. Why not just stay for a couple more years?" Despite saying he never wanted the attention, Xavier had a flair for showmanship, just like his old man. Long before recruits announced their college choices on ESPN, Xavier gathered a crowd at Grisanti's Restaurant in Memphis and pulled a hat out of a bag: "The X-Man will sign with Memphis State," he proclaimed.
When Crawford arrived in 1988, Charlie Bailey was the program's third coach in six years and had led the Tigers to just six wins in two seasons. Xavier was expected to be the savior, and off the field he was treated like one. Crawford describes a scene not unlike "Blue Chips," the basketball film featuring fellow Memphis product Penny Hardaway, who played one full season while Crawford was still on campus. According to Crawford, friends of the program gave the X-Man good paying jobs, nice cars, cash and apartments on both sides of the city. (The school denies these charges.)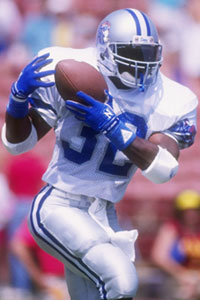 Ken LevineCrawford dealt with turmoil both on and off the field.
However, on the field, Xavier had no circle. According to Crawford and his family, players trashed his dorm room and set his door on fire. Xavier recalls teammates leaving him notes that read, "We don't need your All-American stats." X didn't know how not to be the Man, so he left the team for a week, returning to a meeting led by Bailey. "He implored them to be teammates," says Crawford. "If they had a problem with me, they would have a problem with him. That week we played our first game, and one of my linemen came up out of his stance and just moved out of the way. A guy about 280 pounds crushed me. I can remember looking at my teammates with tears in my eyes. I told the lineman I'd kill him if he ever did that again." (Several attempts to contact Crawford's teammates were unsuccessful.)
The bright spot came when Crawford scored to upset a 14th-ranked, Emmitt Smith-led Florida team in Gainesville. Finally, the X-Man had shown his teammates. They finally understood his greatness. "My teammates embraced the idea: 'If we block for X, then we can win this game,'" says Crawford, who never mentions that the score was one of only three for him that season.
After Crawford's freshman season, Bailey levied a season-long suspension against him for undisclosed reasons. Word was that the coach had grown tired of the star back's conditioning and off-field distractions. USC offensive coordinator Chuck Stobart replaced Bailey in 1989, but the suspension remained. "The talent was there, but for a guy of his ability you expect more consistency," says Stobart, 76, retired and living in Arizona. "When he would show up, I don't ever remember having trouble with him on the practice field. But he was the type of kid if you wanted him outside of football, you had to go get him." The X-Man would have two major knee injuries and appear in just 14 games over his final two seasons.
"He was playing with guys who thought they were the X-Men, but they weren't," says Eddie Crawford, 63, who still resides in Memphis and is a preacher at a nearby church in Arkansas. "They were just his helpers. Sure they loved him, just like Judas said he loved Jesus. My son went through a whole lot of hell. Sure, everyone thinks it'd be good to put it on Snowman, but when the truth is told this story is deeper. It could've been coaches, it could've been relations, it could've been guys against him who wanted his star when it wasn't their star to have."
---
That afternoon at The Swamp was ages ago. Xavier got the best of Emmitt that day, but it's been all Emmitt ever since. Crawford would tell you that if not for lupus, he had the skills to play in the NFL at age 27 after returning from pro ball in Europe. "Every time I see Emmitt Smith on TV, I know that should be me," Crawford says. "I don't envy him, but that should be my world. I miss it. I think in my own selfish thoughts that's where I should be. I shouldn't be in here."
Instead, the past decade has been filled with charges ranging from driving under the influence to aggravated robbery. When Crawford was arrested in 2007 for violating an order of protection filed against him by his then-63-year-old ex-girlfriend and former Memphis City Council member Pat Vander Schaaf, the judge granted him probation rather than a prison sentence. But Crawford violated probation when he allegedly attempted to rape an 18-year-old pregnant woman in 2009. Details of the incident vary and ESPN agreed not to ask Crawford about the case.
His legal issues have prevented him from spending as much time with his nine children as he would like, but Xavier refuses to become Eddie. One son, Jocques, was named the 2007 junior college player of the year as a running back at Cisco (Texas) College and finished his career at Tennessee Tech last season. Another son, Aaron, was named Tennessee's 2006 Class 5A Mr. Football for Memphis' Ridgeway High. He and Xavier make the only father-son tandem to ever win the award.
"As a father, I couldn't have asked for a better one," says Aaron, who will be a senior running back at Texas Tech next season. "Sure I would love for things to have turned out differently for him, but he's not an embarrassment. I think because he didn't have any guidance as a kid that's why he worked so hard with my siblings and me. I wish my dad could just get it together and forget about the past. Because the future can always be better."
---
As the hour Crawford was given to share his saga winds down, the X-Man manages to crack a smile. Maybe to hide the hurt or maybe because he can't believe he could die in a cell. His worn face hints at the hell he's been through since his first arrest in 1998. It's a hell that, to hear him tell it, is only partly Xavier's fault. "Half of it is because all I had to do was believe in my abilities and put the negative things and people aside," says Crawford, who's been in jail awaiting trial for two years because he can't afford a $5 million bond. "I should've asked X, 'What do you want to do?' I happen to be a people-pleaser, and that's one of my downfalls. A lot of people in this world who are like me find themselves on the short end of the stick." He thinks his life would make for a strong memoir, and he's even got a working title, "Welcome to the Hard Part: X Confronting, No More Running."
"I don't know how long I'm going to live, so I want to make sure that the legacy is in place," says Crawford. "That way my grandchildren can look back and see that their grandfather was a good person who did the best he could with what he had."
He returns to his cell, the place where the dream of being viewed as an honorable man may one day come before being the X-Man.
LaRue Cook is a researcher and writer for ESPN The Magazine and Insider who contributes frequently to Rumor Central. You can find his full ESPN.com archives here.
SPONSORED HEADLINES
MORE COLLEGE FOOTBALL HEADLINES
MOST SENT STORIES ON ESPN.COM
ESPN The Magazine: February 7, 2011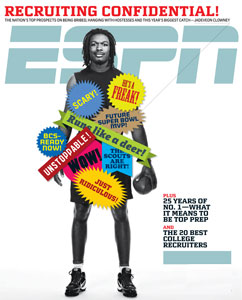 Check out ESPN The Magazine's February 7, 2011 issue below.
Features