Commentary
The File: '57 Auburn star's dark secret
Bobby Hoppe's fatal encounter on a dark Tennessee road changed his life
Originally Published:
January 8, 2011
By
Shaun Assael
| ESPN the Magazine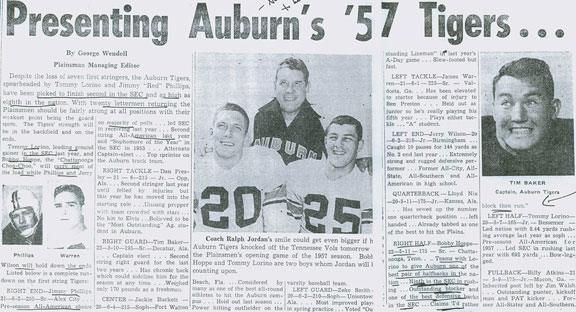 Auburn football preview from 1957. (Click to enlarge)
To continue reading this article you must be an Insider
Insider
• Senior writer for ESPN The Magazine
• Author of "Wide Open: Days and Nights on the NASCAR Tour"; the New York Times best-selling "Sex, Lies and Headlocks"; and "Steroid Nation"
The File
The File by Shaun Assael

The File Blog uses public information requests, court filings, government data and reader-furnished material to go deeper into the stories that the sports world is talking about. The documents we post will help you ignore the spin and crowd noise and get right to the facts that matter. Our motto: The devil is always in the document.

Shaun Assael has worked as a writer at ESPN The Magazine since its launch in 1998. He is a member of ESPN's enterprise unit and the author of three books: "Wide Open," a chronicle of the 1996 NASCAR season, "Sex, Lies & Headlocks" (with Mike Mooneyham), the New York Times best-selling biography of Vince McMahon, and "Steroid Nation".

If you have a document that you think will interest The File, or a suggestion about one you'd like to see, e-mail: shaunassael@gmail.com.

You can also hit us up on Twitter: @shaunassael.
MORE COLLEGE FOOTBALL HEADLINES