Commentary
Pipeline: The meaning of Miami
For two decades, the Canes have topped all. What can we learn?
Updated:
May 13, 2010, 12:34 PM ET
By
Chris Sprow
| ESPN Insider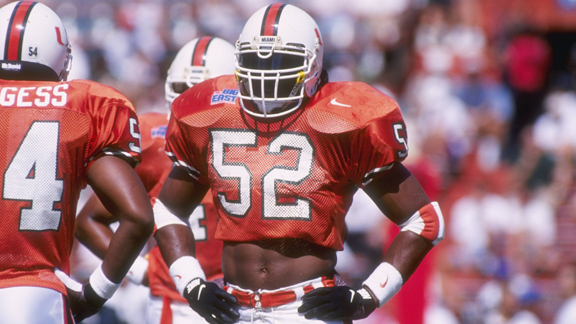 Getty ImagesRay Lewis is arguably the most notable Hurricane in the pros -- but hardly the only one.
It seems like an easy chore to handicap the likeliest programs to produce the top NFL talent over the next decade of college football. Just think "power" and look at the hypothetical landscape:
• Lane Kiffin looks like the next fearless recruiting general for the USC Trojans.
• Joe Paterno is still going for the Penn State Nittany Lions, who are recruiting as well as ever. Even if Joe leaves, would you expect a drop-off?
• Urban Meyer just lost perhaps the greatest college football player of the past decade (if you're confused, we mean Tim Tebow here), and he has a better pure passer in waiting, in John Brantley, and an absurd recruiting class on campus. The Florida Gators are stacked.
• Ohio State Buckeyes, Florida State Seminoles, Nebraska Cornhuskers -- you get the picture.
Or easier yet, you could also just look at the previous decades. Those types dot the top classes in the NFL pipeline, and have forever. Fans of teams outside of the power-school hierarchy tend to acknowledge the "inclusiveness" of the system in the same way a Green Party candidate would the November elections every four years. Sure, you have the same claim to the leadership mantel -- the occasional title game (debate) showing, a spot in the proverbial congress -- but you're not in the party with a true prayer. Same as it ever was.
But is it really true?
Alright. In the past NFL draft, three of the top four picks were from Oklahoma, no? Does that mean Oklahoma is poised as the power of the next decade? What does Miami's run of producing pros teach us? Chris Sprow -- with help from Mel Kiper -- analyzes this fully after the pay wall. If you're intrigued by college-to-pro movement and program history, this is a very good read.
Insider
ESPN Insider
Senior Editor for ESPN Insider
Works with Mel Kiper on NFL draft content
Written for: New York Times, Seattle Times, others
COLLEGE TO NFL PIPELINE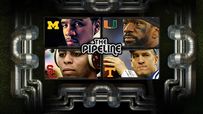 Which college football team produced the best NFL pipeline during the past three decades? We determine the best in a playoff.
Mark Schlabach »
Bracket »
FINAL
SEMIFINALS
ROUND 2
ROUND 1
FEATURES
VIDEO
SPORTSNATION
MORE COLLEGE FOOTBALL HEADLINES

MOST SENT STORIES ON ESPN.COM