Commentary
Recruiting: on the rise and decline
A comprehensive guide to trends within recruiting over the past five years
Updated:
February 5, 2010, 10:40 AM ET
By
Bill Connelly
| Football Outsiders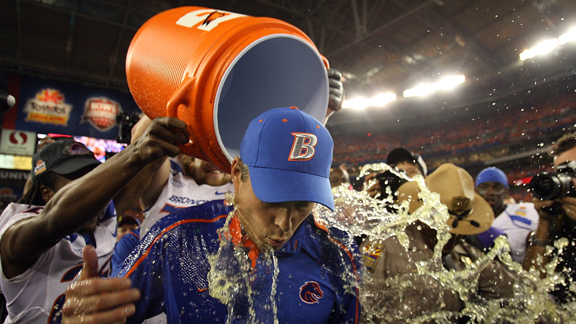 Getty ImagesBoise: straight-up overachievers on the trail. Leads to moments like this.
On Monday, Football Outsiders analyzed the value of recruiting. Today, with recruits in-house, they look at trends over time.
Now that the ink from the signatures of (most of) the Class of 2010 has dried, what can we derive from this year's class rankings? Who has seen the biggest upgrade (or downgrade) in their overall talent level?
To determine this, we must compare a team's incoming talent to its outgoing talent; 4-5 recruiting averages both correlate at similar levels to team success, and since a majority of players departing after the 2009 season came from the recruiting classes of 2005 and 2006, we will combine each team's 2010 haul to their averages from the 2005 and 2006 recruiting classes. (Once again, all data for this exercise comes from Rivals.com because all FBS teams are assigned grades/ratings.)
Since most of the top-ranked recruiting classes went to teams who have always recruited well, the teams who have seen the biggest upgrades are not necessarily the ones at the top. In the top chart to the right, you can see the ten teams who have most improved their overall talent level as compared to the 2005 and 2006 recruiting classes.
Most people like to go class-by-class with recruiting, as in, "Oh, Texas' class is amazing!" OK, cool. That's one way to do things. What if you looked at schools and conferences in five-year stretches, though? Wouldn't you learn a little bit more? Isn't the whole point of recruiting discussion to have the best knowledge? Well, pairing A with B, you get... your need to be an Insider.
Insider
SIGNING DAY RECAP

Signing day 2010 was full of surprises. Florida came out on top, with one of the best classes ever assembled. Recruiting home
SIGNING DAY COVERAGE
ANALYSIS
CONFERENCE GRADES
VIDEO FEATURES
PLAYER ANNOUNCEMENTS
MORE COLLEGE FOOTBALL HEADLINES