Commentary
The Heisman Predictor: Epilogue
The Heisman Predictor was off for the first time in seven years -- what went wrong?
Originally Published:
December 16, 2009
By
Ryan McCrystal
| ESPN Stats & Information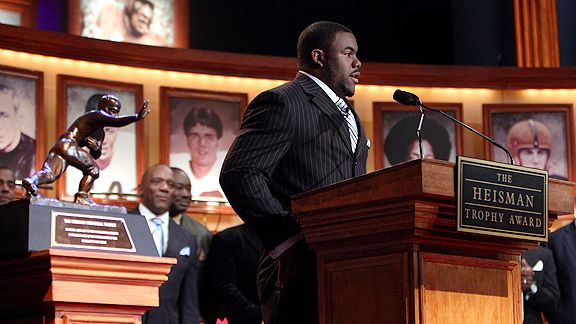 AP Photo/Kelly KlineA touchdown or two could have pushed Mark Ingram atop the Heisman Predictor.
Predicting the Heisman Trophy winner is no easy task, especially in a season as crazy as 2009. For the first time since 2002, the current version of the Heisman Predictor failed to identify the winner.
But all is not lost. This year's outcome was a learning experience. The very premise of the Heisman Predictor is to identify voters' tendencies, which certainly change over time. So whether the formula worked or not, it must be re-evaluated each offseason to make sure it still accurately accounts for the criteria that are most important to the current set of Heisman voters.
Perhaps the best example of how the award has changed over time is that for three consecutive years, a sophomore has won the award. Any attempt to create a Heisman Predictor 10 to 15 years ago certainly would have included a penalty for underclassmen. However, the current version of the formula recognizes that voters are no longer preoccupied with the player's class status. This is a significant reason only six years of data (2003 to 2008) were analyzed in the creation of this year's formula.
Typically, voting tendencies change gradually. For example, it's hard to pinpoint the time when the voters began heavily favoring quarterbacks. As the spread offense has taken over the game, voters simply have adjusted their votes accordingly.
To see how Heisman voters' tendencies might be shifting, as well as how the Predictor -- and voters -- might account for defensive legends like Ndamukong Suh, you must be an ESPN Insider.
Insider
College Football on Insider
Follow the college football season with Insider experts Bruce Feldman, Todd McShay, Mel Kiper and more.
Week 18
Week 17
Week 16
Week 15
Week 14
Week 13
Week 12
Week 11
Week 10
Week 9
Weeks 5-8
Weeks 1-4
MORE COLLEGE FOOTBALL HEADLINES

MOST SENT STORIES ON ESPN.COM