Commentary
To play... or not to play
Wake Forest's 2009 team is a study in the science of the redshirt
Updated:
December 15, 2009, 3:41 PM ET
By
Ryan McGee
| ESPN The Magazine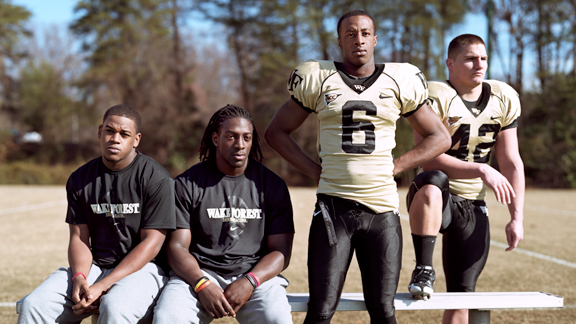 Greg Miller for ESPN The MagazineFrom left: Daniel Mack, Duran Lowe, Kenny Okoro and Tommy Bohanon of Wake Forest.
This feature appears in the December 28 issue of ESPN The Magazine.
Selling patience is hard. Selling patience to a teenager who is used to getting his way is impossible. Meet Jim Grobe, pusher of the impossible.
While 68 college football teams are preparing for bowl games this December, the head coach of the 5-7 Wake Forest Demon Deacons is on the road, pitching patience to high school players, coaches and parents. He stands in their living rooms and locker rooms with a scholarship offer in hand and a proverbial redshirt draped over his shoulder. "Come play for me," he pitches, "but not right away." In nine years in Winston-Salem, Grobe has played only sixteen true freshmen and never more than three in one season. He asks the rest to take a redshirt, to sit out one year for the sake of the program and for themselves. "I realize other schools are promising you playing time as a freshman," he says with a disarming smile, "but what does that mean? A few downs on special teams? Why not get in four good years of playing time instead of wasting one or two?"
Right about then, the 57-year-old strokes his 2006 ACC championship ring. "I know we aren't in a bowl this year," he continues. "But we've made the BCS's smallest school a consistent winner and we've done it with redshirts. We're knocking on the next-level door. Wouldn't it be great to be the guy who kicked that door open?"
To continue reading McGee's redshirt feature -- notes on how WFU must use the system in order to contend, as well as how it benefited Aaron Curry and Alphonso Smith -- you must be an ESPN Insider.
Insider
ESPN The Magazine, NASCAR
ESPN The Magazine senior writer
2-time Sports Emmy winner
2010, 2014 NMPA Writer of the Year
College Football on Insider
Follow the college football season with Insider experts Bruce Feldman, Todd McShay, Mel Kiper and more.
Week 18
Week 17
Week 16
Week 15
Week 14
Week 13
Week 12
Week 11
Week 10
Week 9
Weeks 5-8
Weeks 1-4
MORE COLLEGE FOOTBALL HEADLINES
Rawlings Wake Forest Demon Deacons Signature Series Full-size Football Shop »

MOST SENT STORIES ON ESPN.COM