Commentary
The Top 10 backcourts in 2011-12
Duke, Kentucky and North Carolina look strong, but they're not No. 1
Updated:
June 15, 2011, 1:56 PM ET
By
John Gasaway
| Basketball Prospectus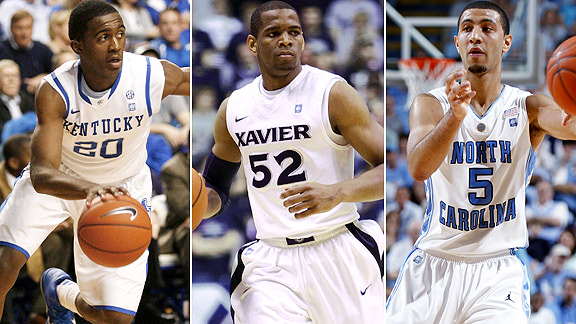 US PresswireDoron Lamb, Tu Holloway and Kendall Marshall are part of some of the top backcourts.
Last week when I ranked the upcoming season's top 10 frontcourts, my selections were heavily influenced by the high number of elite big men who have chosen to forgo the NBA draft. But when it comes to the nation's top guards, you can make a case that this season looks a lot more "normal." Pretty much everyone who was expected to "go early" did go early. Kyrie Irving, Brandon Knight, Kemba Walker … they're all long gone.
Meaning it's time to meet the new breed. To be sure, there are some familiar names here. For example, Jordan Taylor and Tu Holloway were named second- and third-team All-Americans, respectively, last season. Still, many if not most of the players you see below will soon be praised for "stepping up," "maturing" and every other euphemism for "we just started paying attention to you." Here are your top 10 backcourts for 2011-12:
10. Wisconsin
Jordan Taylor might see his kenpom.com efficiency ranking dip this season, now that Jon Leuer no longer is around to draw the attention of opposing defenses. Then again, a pure shooter who carries the responsibilities of a point guard, sprays assists and gets to the line is a rare quantity, to say the very least. Not to mention that Taylor's biggest play of the season (his block on Jacob Pullen's would-be tying shot in the closing moments of the Badgers' win over Kansas State in the NCAA tournament) might have come on defense. Bo Ryan, give this man some help.
To see the rest of the top-10 list, become an ESPN Insider today.
Insider
ESPN Insider
ESPN Insider college basketball contributor
First began covering college hoops in 2004
Has written for Basketball Prospectus and the Wall Street Journal
Insider College Basketball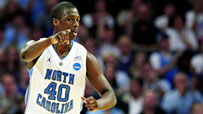 New on Insider
Lunardi: Pac-12 locked into 2 bids?
Player Rankings: Davis over Robinson for POY
Lunardi: Where UW, Northwestern fall
Hume: Bid thieves are few
Bilas: Sizing up the Big East
Gasaway: Pac-12 stronger than it seems
Hume: Best bets among bubble teams
Lunardi: VCU may be first bid thief
Ford: Time running out for 5 NBA prospects
Lunardi: How UConn, Texas, others earn bids
Lunardi: Latest look at the bubble
Fraschilla: Previewing Big 12 tournament
Bilas Index: UNC remains at No. 3
Pomeroy: Trends predict UNC-Duke clash
Lunardi: No No. 1 seed for Big Ten?
Player Rankings: Purdue's pivotal players
Ford: Will MKG, Cody Zeller stay in school?
Gasaway: Rebounding won't crush Orange
Telep: UCLA's top recruits remain committed
Bilas: How Michigan State can still improve
Bilas: Keys to the Hoyas' continued success
Lunardi: Watch out for NCAA bid thieves
Lunardi Rundown: Kentucky is No. 1 overall
Bilas Index: Kansas returns to the top five

Giant Killers
Make smart bracket picks by spotting Cinderella early.
And don't forget these Insider mainstays:
Doug Gottlieb, Fran Fraschilla, Joe Lunardi and Jay Williams offer their opinions.
Insights from the mind of the College Gameday analyst.
The national recruiting analyst weighs in on news and rumors surrounding the top high school prospects.
Stay on top of all the latest recruiting buzz.
Every D-1 player's efficiency rating.
MORE MEN'S COLLEGE BASKETBALL HEADLINES


MOST SENT STORIES ON ESPN.COM