Commentary
Bracket Predictor: National title pick
Using Insider's predictive tool to determine this year's national champion
Updated:
March 29, 2011, 6:23 PM ET
By
Chris Sprow
| ESPN Insider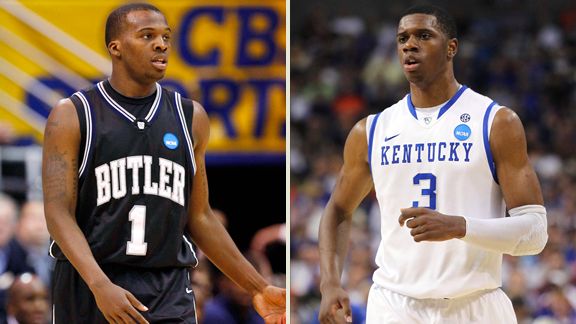 US PresswireBracket Predictor envisions a Butler-Kentucky title game.
An annual tradition, we're again walking through the brackets with Bracket Predictor. We take full responsibility, however, for interpreting his endorsements. While the predictions are the stone-cold serious work of our Insider's robo-prognosticator, we decided to dress up the answers with a little human warmth.
You have to feel bad for the Ohio State Buckeyes.
Consider this situation: A team is clearly the best over the course of the regular season. It's cruising through the season-ending tourney. Then one night, the second-leading scorer has maybe his worst game of the season. His team loses.
But the team isn't Ohio State. It is also the 1995-96 Chicago Bulls, perhaps the best basketball team ever constructed. They went 72-10 in the regular season, were on a playoff roll, but lost Game 4 of the NBA Finals when Scottie Pippen went 4-of-17 from the floor. Against Kentucky on Friday, OSU's William Buford, the Buckeyes' second-leading scorer, went a Pippenesque 2-of-16, and a season in which the Buckeyes were probably the nation's best team was over.
The Bulls lost the next game, too, before hanging on for the title. It's a good reminder. Whereas the NBA is immune to killing off its best because of a single bad game -- after all, a single game can mean anything -- college hoops is not. It's what makes the NCAA tournament perhaps sport's greatest spectacle, and both the most democratic way to choose a champion, and in some ways, the absolute worst. Congrats on the great season, now enjoy the obstacle course.
This is not to diminish Kentucky, a team grossly under-seeded by the selection committee.
And Wildcats fans are just a year removed from their own random ending: They endured an Ohio State-like exit in 2010 when the Cats shot an unthinkable 4-of-32 on 3-point attempts in a loss to the West Virginia Mountaineers. The tournament is really six one-game tournaments. Anyone can fall -- even Bracket Predictor. His only crime is that he knows too much to be subjected to such randomness. But, with his algorithms intact, we're finally ready to project a champion. We won't miss.
To see the Bracket Predictor's choice for a national champion, sign up today.
Insider
ESPN Insider
Senior Editor for ESPN Insider
Works with Mel Kiper on NFL draft content
Written for: New York Times, Seattle Times, others
Insider NCAA Tournament Bracket Bundle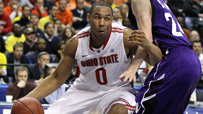 Insider has all of the NCAA tournament angles covered.
Tournament Projections
Access the ultimate tournament game prediction tool to dominate your pool. Bracket Predictor
Team-by-Team Scouting
Joe Lunardi and his team of bracketologists break down all 68 teams. Tourney Tips
Upset Picks
Our deadly-accurate formula projects which Cinderellas will topple favorites. Giant Killers
Expert Advice
ESPN's college hoops analysts weigh in throughout March. Experts Blog | Bilas Blog
John Gasaway
Basketball Prospectus author John Gasaway analyzes the 2011 dance.
Players To Watch
Chad Ford scouts NBA prospects in each region.
Resources
MORE MEN'S COLLEGE BASKETBALL HEADLINES


MOST SENT STORIES ON ESPN.COM