Commentary
Bracket Predictor: Sweet 16 picks
With questions about seeding for middling teams, don't overlook the clearly elite
Updated:
March 15, 2011, 5:11 PM ET
By
Chris Sprow
| ESPN Insider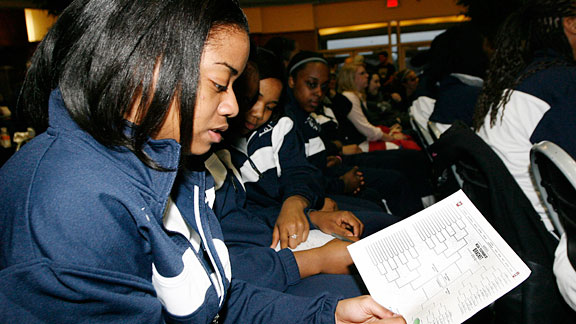 AP Photo/David KohlBracket Predictor is here to ease your confusion.
An annual tradition, we're again walking through the brackets with Bracket Predictor. We take full responsibility, however, for interpreting his endorsements. While the predictions are the stone-cold serious work of our Insider's robo-prognosticator, we decided to dress up the answers with a little human warmth.
Watson, the artificial intelligence software that recently battered two of the finest Jeopardy! contestants ever, can process the equivalent of a million books per second, had a hardware cost of roughly $3 million and could activate its handheld buzzer within eight milliseconds.
In other words, Watson pales in comparison to Bracket Predictor.
First of all, the NCAA bracket-picking tool designed by Team Rankings is just downright amiable. Whereas Watson is an adversarial combatant who some feel could have plans to subjugate our grandchildren, Predictor was built to work alongside humanity. And he's good. Last year, working with Predictor, we had a Kansas-Duke final when breaking down the field of 65 , then picked the eventual champ a week later once re-calibrated for the Sweet 16.
Consider: Even with the Kansas loss to Northern Iowa, our Sweet 16 would have topped 90 percent of ESPN Bracket Challenge pools. And we'll only improve.
So this year, working alongside the machine -- when he's split, the human in the equation makes a final call -- I thought I'd share some storylines, close calls, upset picks and the predicted Sweet 16 for 2011. If you're curious what makes Predictor's gears turn, besides long walks on the beach, see the sidebar. If you just want the picks, keep reading below.
First Round Notable Picks
To see the Sweet 16 picks, plus some upset picks along the way, sign up today. You'll also get access to all of Insider's NCAA Tournament content, including projections, upset picks and more.
Insider
ESPN Insider
Senior Editor for ESPN Insider
Works with Mel Kiper on NFL draft content
Written for: New York Times, Seattle Times, others
Insider NCAA Tournament Bracket Bundle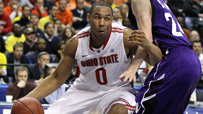 Insider has all of the NCAA tournament angles covered.
Tournament Projections
Access the ultimate tournament game prediction tool to dominate your pool. Bracket Predictor
Team-by-Team Scouting
Joe Lunardi and his team of bracketologists break down all 68 teams. Tourney Tips
Upset Picks
Our deadly-accurate formula projects which Cinderellas will topple favorites. Giant Killers
Expert Advice
ESPN's college hoops analysts weigh in throughout March. Experts Blog | Bilas Blog
John Gasaway
Basketball Prospectus author John Gasaway analyzes the 2011 dance.
Players To Watch
Chad Ford scouts NBA prospects in each region.
Resources
MORE MEN'S COLLEGE BASKETBALL HEADLINES


MOST SENT STORIES ON ESPN.COM