Commentary
The bubble team checklist
The criteria bubble teams must meet to earn one of the last 13 NCAA bids
Updated:
March 5, 2012, 2:25 PM ET
By
Joe Lunardi
| ESPN Insider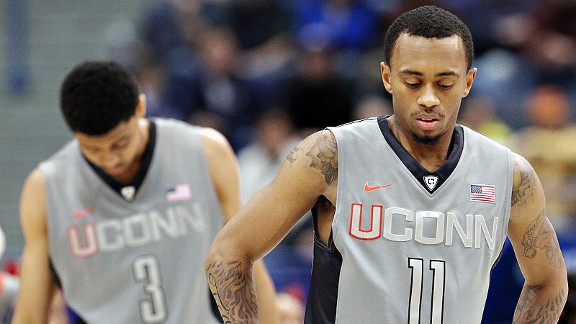 Elsa/Getty ImagesIt's been a struggle for Ryan Boatright and the Huskies, but they should be in the dance.
With the heart of Championship Week upon us, it's time to dispense with the hypothetical and answer the most pressing question everyone is asking: "What does my team have to do to get in?"
We know from the latest Bracket Math that 33 teams have NCAA tournament at-large odds of 90 percent or better. Another 22 spots will go to teams qualifying automatically, including four -- Murray State, Creighton, Belmont and UNC Asheville -- that have already done so.
This leaves all of 13 spots to be determined during the next seven days. When you think about all the energy expended in pursuit of that baker's dozen, it's a miracle the entire sport doesn't implode upon itself.
This column is for everyone in contention for the precious 13. Your tasks range from the sublime to the ridiculous:
1. No bad losses
This is the easy group. Most, if not all, have done enough for an at-large bid and must merely avoid the dreaded "bad loss" in their respective conference tournaments.
These teams, with their next opponent in parenthesis, are Saint Louis (La Salle or Richmond), Southern Miss (Rice or East Carolina), Cal (if Arizona State), West Virginia (if DePaul), UConn (DePaul) and Mississippi State (Georgia).
To read the full story from Joe Lunardi, plus get access to all of ESPN Insider's analysis that will help you gain an edge in your bracket, sign up to become an Insider.
Insider
Senior Writer, ESPN.com
Resident college basketball bracketologist for ESPN
Contributor to SportsCenter, ESPN Insider
Published first public bracket in 1995
Insider College Basketball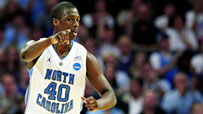 New on Insider
Lunardi: Pac-12 locked into 2 bids?
Player Rankings: Davis over Robinson for POY
Lunardi: Where UW, Northwestern fall
Hume: Bid thieves are few
Bilas: Sizing up the Big East
Gasaway: Pac-12 stronger than it seems
Hume: Best bets among bubble teams
Lunardi: VCU may be first bid thief
Ford: Time running out for 5 NBA prospects
Lunardi: How UConn, Texas, others earn bids
Lunardi: Latest look at the bubble
Fraschilla: Previewing Big 12 tournament
Bilas Index: UNC remains at No. 3
Pomeroy: Trends predict UNC-Duke clash
Lunardi: No No. 1 seed for Big Ten?
Player Rankings: Purdue's pivotal players
Ford: Will MKG, Cody Zeller stay in school?
Gasaway: Rebounding won't crush Orange
Telep: UCLA's top recruits remain committed
Bilas: How Michigan State can still improve
Bilas: Keys to the Hoyas' continued success
Lunardi: Watch out for NCAA bid thieves
Lunardi Rundown: Kentucky is No. 1 overall
Bilas Index: Kansas returns to the top five

Giant Killers
Make smart bracket picks by spotting Cinderella early.
And don't forget these Insider mainstays:
Doug Gottlieb, Fran Fraschilla, Joe Lunardi and Jay Williams offer their opinions.
Insights from the mind of the College Gameday analyst.
The national recruiting analyst weighs in on news and rumors surrounding the top high school prospects.
Stay on top of all the latest recruiting buzz.
Every D-1 player's efficiency rating.
MORE MEN'S COLLEGE BASKETBALL HEADLINES


MOST SENT STORIES ON ESPN.COM