Commentary
How good is Murray State?
With their unbeaten season now just a memory, what is the ceiling for the Racers?
Updated:
February 10, 2012, 12:03 PM ET
By
John Gasaway
| ESPN Insider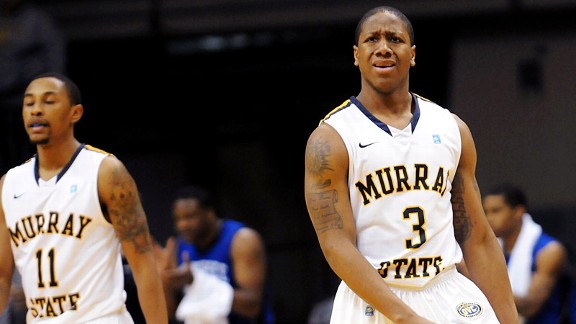 AP Photo/Stephen Lance DenneeMurray State was frustrated at home Thursday night, losing for the first time this season.
Twenty-four hours ago, the Murray State Racers were the darlings of the human rankers. Despite being nowhere to be found in the top 25 according to pre-programmed ranking systems like the Ratings Percentage Index (MSU is currently No. 34) or the Pomeroy ratings (No. 73), Steve Prohm's team was ranked No. 7 in the ESPN/USA Today coaches poll and had many looking ahead to a BracketBusters meeting with Saint Mary's and a possible unbeaten regular season.
The cause of this disparity is simple. Murray State's season-opening 23-game winning streak was the engine for its rise through the polls. When you win, your ranking improves. It's always been that way, and the Racers certainly didn't invent the rules.
Then this happened:
Tennessee State 72, Murray State 68.
And just as the rules caused the Racers' rise through the polls, Thursday's home loss to Tennessee State will precipitate their fall. Now the questions become exactly how good this team really is and what to expect of it as the postseason approaches.
Isaiah Canaan is a phenomenal scoring point guard, Donte Poole has been lethally effective on offense from both sides of the arc (and at the line), and this entire team earns free throws with a machine-like regularity that even Frank Martin can appreciate. It's no mistake that the Racers won 23 straight.
In fact, I believe Murray State is far and away the best Ohio Valley team we've seen since ... Murray State in 2010. If you don't remember that team, trust me, Brad Stevens does. A bounce here and a rebound there, and the Racers would have advanced to the Sweet 16 instead of Butler. Two years after that team gave the Bulldogs everything they could handle, Murray State has already all but locked up an at-large NCAA tournament bid -- a remarkable statement to make about an OVC team in early February.
To continue reading this article you must be an Insider
Insider
ESPN Insider
ESPN Insider college basketball contributor
First began covering college hoops in 2004
Has written for Basketball Prospectus and the Wall Street Journal
Insider College Basketball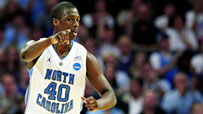 New on Insider
Lunardi: Pac-12 locked into 2 bids?
Player Rankings: Davis over Robinson for POY
Lunardi: Where UW, Northwestern fall
Hume: Bid thieves are few
Bilas: Sizing up the Big East
Gasaway: Pac-12 stronger than it seems
Hume: Best bets among bubble teams
Lunardi: VCU may be first bid thief
Ford: Time running out for 5 NBA prospects
Lunardi: How UConn, Texas, others earn bids
Lunardi: Latest look at the bubble
Fraschilla: Previewing Big 12 tournament
Bilas Index: UNC remains at No. 3
Pomeroy: Trends predict UNC-Duke clash
Lunardi: No No. 1 seed for Big Ten?
Player Rankings: Purdue's pivotal players
Ford: Will MKG, Cody Zeller stay in school?
Gasaway: Rebounding won't crush Orange
Telep: UCLA's top recruits remain committed
Bilas: How Michigan State can still improve
Bilas: Keys to the Hoyas' continued success
Lunardi: Watch out for NCAA bid thieves
Lunardi Rundown: Kentucky is No. 1 overall
Bilas Index: Kansas returns to the top five

Giant Killers
Make smart bracket picks by spotting Cinderella early.
And don't forget these Insider mainstays:
Doug Gottlieb, Fran Fraschilla, Joe Lunardi and Jay Williams offer their opinions.
Insights from the mind of the College Gameday analyst.
The national recruiting analyst weighs in on news and rumors surrounding the top high school prospects.
Stay on top of all the latest recruiting buzz.
Every D-1 player's efficiency rating.
MORE MEN'S COLLEGE BASKETBALL HEADLINES

MOST SENT STORIES ON ESPN.COM