Commentary
Bilas Index: Kentucky claims No. 1
Behind inspired defense, the Wildcats surpass Syracuse for the Index's top spot
Originally Published:
January 15, 2012
By
Jay Bilas
| ESPN Insider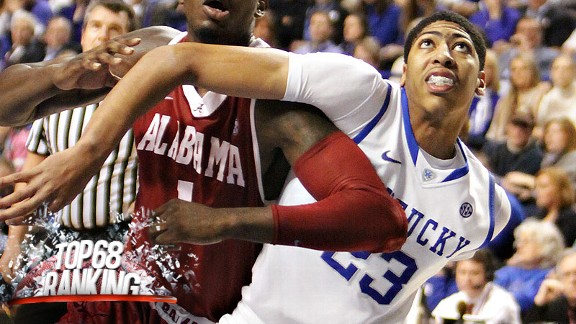 Jeff Moreland/Icon SMIFreshman Anthony Davis has been the backbone of Kentucky's superb defense.
Week 6 of the Bilas Index takes into account an incredible week in college basketball. The week began with Kansas pounding Baylor into submission in Lawrence, which was greeted with the tepid response that "good teams are supposed to win their home games." Of course, that devalues home wins and can overvalue road wins, but the Bilas Index is not fooled by such proclamations. Winning on the road is difficult, but winning anywhere against a quality opponent is not easy.
The Bilas Index was not distracted by the drama of North Carolina's early departure from the floor at the end of the disturbing loss at Florida State. The Tar Heels had left the building much earlier than that and never really competed. The questions raised were answered in part in a win at Virginia Tech, but Carolina lost its best defender when Dexter Strickland tore his ACL.
Baylor not only failed to bounce back against Missouri in Waco but was dominated on the glass and off the dribble by the smaller and quicker Tigers. Florida State added to its résumé by hitting two buzzer beaters (one at the end of the first half) to vanquish Duke in Cameron. On the anniversary of Notre Dame's 1974 win against UCLA and the end of John Wooden's 88-game win streak, the Irish dealt Syracuse its first loss of the season.
Wow.
To show you how volatile things have been this season, let's look back to 2008, when college basketball had some truly great teams. This week in 2008, the top four teams were Kansas, Memphis, UCLA and North Carolina. Combined, those four teams had just one loss. Three of the four were unbeaten. And each team was chock full of NBA pros. This season, there is not that kind of talent and not the same caliber of teams. It is, however, a more volatile season.
The Bilas Index is an unbeatable combination of reliable data and metrics, and the infinite and creative power of one superhuman brain. Mine. While the Bilas Index relies upon the data of Kenpom.com and the Sagarin Ratings, the trustworthiness and dependability and vastness of this prodigious basketball mind baffles the brightest NASA scientists, among others. Stephen Hawking's lifelong quest for certainty in the universe led him directly to the Bilas Index.
Out: Virginia Tech Hokies, Georgia State Panthers, Saint Joseph's Hawks, Missouri State Bears
In: Davidson Wildcats, Wyoming Cowboys, Wagner Seahawks, Notre Dame Fighting Irish
1. Kentucky Wildcats

The Wildcats did not play their best against Alabama, especially on the offensive end, but by virtue of 40 free throw attempts and nine blocked shots, Kentucky's young Cats were able to hold off Alabama in Rupp. The offense is going to get better, but the defense this team plays will give it a chance to win every game. UK has only four Sagarin top-40 wins, but this is clearly one of the two or three best teams in the country.
To see the rest of Jay Bilas' rankings and get access to all of ESPN Insider's college basketball coverage, sign up today.
Insider
Insider College Basketball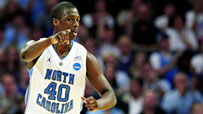 New on Insider
Lunardi: Pac-12 locked into 2 bids?
Player Rankings: Davis over Robinson for POY
Lunardi: Where UW, Northwestern fall
Hume: Bid thieves are few
Bilas: Sizing up the Big East
Gasaway: Pac-12 stronger than it seems
Hume: Best bets among bubble teams
Lunardi: VCU may be first bid thief
Ford: Time running out for 5 NBA prospects
Lunardi: How UConn, Texas, others earn bids
Lunardi: Latest look at the bubble
Fraschilla: Previewing Big 12 tournament
Bilas Index: UNC remains at No. 3
Pomeroy: Trends predict UNC-Duke clash
Lunardi: No No. 1 seed for Big Ten?
Player Rankings: Purdue's pivotal players
Ford: Will MKG, Cody Zeller stay in school?
Gasaway: Rebounding won't crush Orange
Telep: UCLA's top recruits remain committed
Bilas: How Michigan State can still improve
Bilas: Keys to the Hoyas' continued success
Lunardi: Watch out for NCAA bid thieves
Lunardi Rundown: Kentucky is No. 1 overall
Bilas Index: Kansas returns to the top five

Giant Killers
Make smart bracket picks by spotting Cinderella early.
And don't forget these Insider mainstays:
Doug Gottlieb, Fran Fraschilla, Joe Lunardi and Jay Williams offer their opinions.
Insights from the mind of the College Gameday analyst.
The national recruiting analyst weighs in on news and rumors surrounding the top high school prospects.
Stay on top of all the latest recruiting buzz.
Every D-1 player's efficiency rating.
MORE MEN'S COLLEGE BASKETBALL HEADLINES
Nike Men's Arizona Wildcats Navy 'just Net' Basketball T-shirt Shop »

MOST SENT STORIES ON ESPN.COM