Commentary
Bilas Index: Buckeyes still in top five
Even after the loss at Indiana, Ohio State ranks among the nation's best
Originally Published:
January 1, 2012
By
Jay Bilas
| ESPN Insider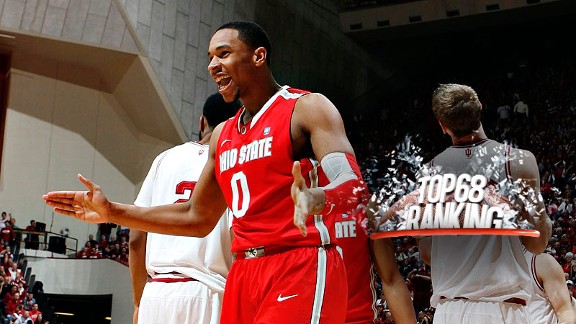 Brian Spurlock/US PresswireJared Sullinger and the Buckeyes fell to the Hoosiers, but they are still an elite team.
Week 3 of the Bilas Index brings some movement, with more to come as we enter conference play. As previously noted, the Bilas Index is not some random poll that has wild swings based solely upon a snapshot of this week's play. Rather, it is a combination of consistently reliable data and metrics (such as Kenpom.com ratings and Sagarin rankings) as well as the incredibly reliable eyes and mind of the Bilastrator himself. We can complain about "the eye test" all we want, but it is important to subtly adjust the positions of certain teams that benefit from or get hammered by the dreaded numbers of the pocket-protected, pointy-headed, pencil pushers who provide us with such revealing data.
However, I do not ignore the numbers in the Bilas Index and simply use the transitive property, either. As we get into conference play, there will be more data available for every team, and the Index can begin to "net out" data from meaningless games. By "meaningless games," I mean games played against the dregs of Division I, around the dreaded bottom third. The truth is, I don't really care how a team performs against bad teams. It is of no use to me in evaluating a quality basketball team. But, right now, that is most of what we have to go on. That is changing rapidly.
Against a bad team, good teams may not be motivated to bring their best and oftentimes do not. By the same token, a classic underdog may look average against another underdog in a fair fight. But against a Goliath, it may play well above that level. I am interested in how the Davids play when truly challenged. If they can hang in truly big games and have a chance to win, that scores points with me. After all, the only teams that play against bad teams in the NCAA tournament are the No. 1 and No. 2 seeds. Everyone else has to play somebody good.
Xavier still presents a quandary. What to do with this compelling team, when the performances of late make you want to drop them precipitously? Last week, I kept Xavier in place, but this week, I adjusted the Musketeers down. It's not the free fall their numbers and performance suggest should take place, but it's also not a free pass, which I gave them last week.
It is still early, which is why some of the rises and falls are so extreme. Once there is more data, the numbers will not change so much week to week, and the rankings will stabilize. There are still a few spots where I think a team is better than a few teams ranked ahead, but the numbers are holding them back. Later, I believe that will change.
Out: Kent State, Dayton, Denver and LSU
In: Middle Tennessee, Oral Roberts and Washington
1. Syracuse Orange

To see the rest of Jay Bilas' rankings and get access to all of ESPN Insider's college basketball coverage, sign up today.
Insider
Insider College Basketball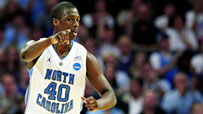 New on Insider
Lunardi: Pac-12 locked into 2 bids?
Player Rankings: Davis over Robinson for POY
Lunardi: Where UW, Northwestern fall
Hume: Bid thieves are few
Bilas: Sizing up the Big East
Gasaway: Pac-12 stronger than it seems
Hume: Best bets among bubble teams
Lunardi: VCU may be first bid thief
Ford: Time running out for 5 NBA prospects
Lunardi: How UConn, Texas, others earn bids
Lunardi: Latest look at the bubble
Fraschilla: Previewing Big 12 tournament
Bilas Index: UNC remains at No. 3
Pomeroy: Trends predict UNC-Duke clash
Lunardi: No No. 1 seed for Big Ten?
Player Rankings: Purdue's pivotal players
Ford: Will MKG, Cody Zeller stay in school?
Gasaway: Rebounding won't crush Orange
Telep: UCLA's top recruits remain committed
Bilas: How Michigan State can still improve
Bilas: Keys to the Hoyas' continued success
Lunardi: Watch out for NCAA bid thieves
Lunardi Rundown: Kentucky is No. 1 overall
Bilas Index: Kansas returns to the top five

Giant Killers
Make smart bracket picks by spotting Cinderella early.
And don't forget these Insider mainstays:
Doug Gottlieb, Fran Fraschilla, Joe Lunardi and Jay Williams offer their opinions.
Insights from the mind of the College Gameday analyst.
The national recruiting analyst weighs in on news and rumors surrounding the top high school prospects.
Stay on top of all the latest recruiting buzz.
Every D-1 player's efficiency rating.
MORE MEN'S COLLEGE BASKETBALL HEADLINES


MOST SENT STORIES ON ESPN.COM