Commentary
Bilas Index: Vandy lacks heart, drops
The top teams stick, while St. Joe's and LSU break into the rankings
Originally Published:
December 25, 2011
By
Jay Bilas
| ESPN Insider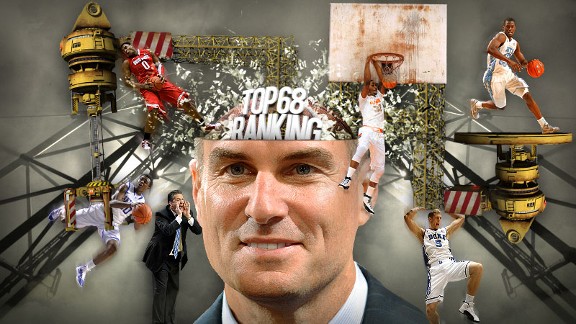 Rob Booth/ESPN.comWeek 2 of Jay Bilas' top-68 rankings has Syracuse holding the top spot.
We got a lot of feedback when we debuted the Top 68 last Sunday, and there was one clear refrain I want to address: The Bilas Index is not a poll. A poll is a collection of votes that surveys or samples opinions and, while instructive, is entirely subjective. The Index is a combination of different reliable metrics, with my own subjective judgment included --- which can also be referred to as the dreaded "eye test" you hear about every March.
If I were on the selection committee, I would approach it exactly this way. I would keep a ranking of teams, 1 through 68, that I would thoughtfully update weekly based upon metrics, results and what my own lying eyes tell me.
With this approach, I could sit in the committee room during Championship Week and simply cross off the lowest-ranked teams as automatic qualifiers are identified. The Index provides a ranking of at-large teams and is of great assistance in seeding decisions. Of course, results from Championship Week will prompt adjustments, but there should be no wild swings at that point.
With the Index, there certainly still could be discussion about the merits of certain teams, but the arguments would have to be compelling for a team to leap ahead of a higher-ranked program. Essentially, the Index serves as a decision tree in the committee room.
This week, The Bilas Index has seen some movement, but the most interesting case is regarding a team that stayed relatively stationary. Xavier is still working through some issues in the wake of its fight with Cincinnati. I am choosing to judge the Musketeers on their performances at full strength, and right now they've still got players on the shelf. For now, I'm holding off judgment on their poor showing in Hawaii. If Xavier proves to be a different or lesser team when back at full strength, adjustments will be made at that time. Until then, I don't believe we're seeing an accurate portrayal of Xavier and how the Musketeers will play in March.
But we have gathered more information on other teams, and some of them moved quite a bit up -- and down -- the Index.
Out: Oklahoma State, Washington. Both teams are talented enough to be ranked and should be. My eyes tell me that these teams aren't performing up to their talent level. Washington is running out of opportunities to improve its standing, but the Huskies are more than talented enough to win the anemic Pac-12.
In: Saint Joseph's (67), LSU (68). Saint Joseph's has one bad loss to American but has beaten Villanova, Creighton and Georgia Tech. The Hawks are subject to being in and out of the Index and will have to knock off the top teams in the Atlantic 10 to stay in and get into at-large range. An important game for Saint Joseph's will be the Dec. 31 game at Harvard. LSU knocked Marquette from the ranks of the unbeaten, and Trent Johnson has a team that will fight you on the defensive end. But because of the Tigers' offensive issues, they may be short-timers in the Index. If you can't score, you can't win. Both Saint Joseph's and LSU don't have the underlying efficiency numbers to suggest that they will stick here.
1. Syracuse Orange

To see the rest of Jay Bilas' rankings and get access to all of ESPN Insider's college basketball coverage, sign up today.
Insider
Insider College Basketball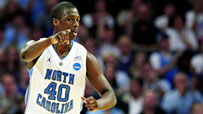 New on Insider
Lunardi: Pac-12 locked into 2 bids?
Player Rankings: Davis over Robinson for POY
Lunardi: Where UW, Northwestern fall
Hume: Bid thieves are few
Bilas: Sizing up the Big East
Gasaway: Pac-12 stronger than it seems
Hume: Best bets among bubble teams
Lunardi: VCU may be first bid thief
Ford: Time running out for 5 NBA prospects
Lunardi: How UConn, Texas, others earn bids
Lunardi: Latest look at the bubble
Fraschilla: Previewing Big 12 tournament
Bilas Index: UNC remains at No. 3
Pomeroy: Trends predict UNC-Duke clash
Lunardi: No No. 1 seed for Big Ten?
Player Rankings: Purdue's pivotal players
Ford: Will MKG, Cody Zeller stay in school?
Gasaway: Rebounding won't crush Orange
Telep: UCLA's top recruits remain committed
Bilas: How Michigan State can still improve
Bilas: Keys to the Hoyas' continued success
Lunardi: Watch out for NCAA bid thieves
Lunardi Rundown: Kentucky is No. 1 overall
Bilas Index: Kansas returns to the top five

Giant Killers
Make smart bracket picks by spotting Cinderella early.
And don't forget these Insider mainstays:
Doug Gottlieb, Fran Fraschilla, Joe Lunardi and Jay Williams offer their opinions.
Insights from the mind of the College Gameday analyst.
The national recruiting analyst weighs in on news and rumors surrounding the top high school prospects.
Stay on top of all the latest recruiting buzz.
Every D-1 player's efficiency rating.
MORE MEN'S COLLEGE BASKETBALL HEADLINES


MOST SENT STORIES ON ESPN.COM