Commentary
CBB Summer Buzz: VCU
After a trip to the Final Four last season, Shaka Smart and the Rams begin anew
Updated:
August 26, 2011, 2:04 PM ET
By
Eric Angevine
| ESPN Insider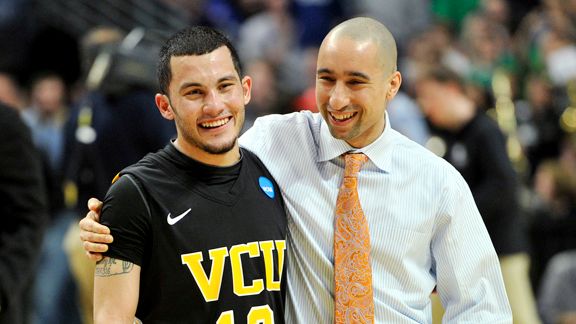 AP Photo/Jim PrischingFinding a replacement for PG Joey Rodriguez (left) is one of Shaka Smart's top priorities this fall.

Insider knows you're hot for hoops during the summer, so we're bringing you a closer look at a few of the big-profile schools before most freshmen have even moved into their dorms. We conclude with the VCU Rams.
2010-11: 28-12 (NCAA tournament -- Final Four)
Shaka Smart, four VCU seniors and junior Bradford Burgess, surrounded by legendary athletes, soaking in adulation as they accept the ESPY for "Best Upset," honoring their upending of the big, bad Kansas Jayhawks in the Elite Eight.
Freeze that moment, then roll back the film. So much went into that celebratory instant.
In November, the Rams beat UCLA in Madison Square Garden, providing a preview of their big-win capabilities. Then they lost at South Florida, and dropped another at crosstown demi-rival Richmond. Come the end of January, however, they were humming along atop the CAA with a 10-1 league mark, looking ready to run away with the regular-season championship.
February was chaos, as the Rams lost home games to George Mason, James Madison and archrival Old Dominion. The season looked wrecked until a conference tourney run to a championship-game loss -- ODU again -- left VCU on the thin part of the bubble. A bubble that, surprisingly, didn't burst.
"There was so much excitement when we got picked that we didn't even realize who we were playing for a while," says VCU's third-year coach, Shaka Smart. "Then all of a sudden, after 10 or 15 minutes of celebrating and hugs and slappin' fives, I turned to my assistant and said, 'Now, who are we playing?' and he says, 'USC,' so I said, 'Let's go to work.'"
Become an ESPN Insider and read the rest of the VCU Summer Buzz preview, as well as the rest of Insider's collge basketball coverage.
Insider
COLLEGE BASKETBALL SUMMER BUZZ
Insider knows you're hot for hoops during the summer, so we're bringing you a closer look at 25 of the most intriguing college programs before school's even in session.
INSIDER PREVIEWS
All in one place
A collection of all the Buzz to date.
UConn Huskies
The post-Kemba era begins
Pittsburgh Panthers
Is this the year Pitt breaks through?
Syracuse Orange
Jardine, Joseph look to lead 'Cuse
St. John's Red Storm
Massive turnover defines Lavin's crew
Louisville Cardinals
Cards have talent to fill holes
North Carolina Tar Heels
Tar Heels prep for title run
Duke Blue Devils
Blue Devils face point-ed questions
Michigan State Spartans
Another tough schedule awaits Tom Izzo's crew
Ohio State Buckeyes
Sullinger rekindles title hopes in Columbus
Indiana Hoosiers
Postseason hopes reborn in Bloomington
Kentucky Wildcats
Freshmen, vets form potent combo
Vanderbilt Commodores
'Dores seek NCAA tourney breakthrough
Arkansas Razorbacks
The Mike Anderson Era begins
Tennessee Volunteers
Vols face long, tough rebuilding path
Mississippi State Bulldogs
Bulldogs need Sidney to stay on the court
UCLA Bruins
Frontcourt will have to carry load for Bruins
Arizona Wildcats
Talented Wildcats need a new star to emerge
Kansas Jayhawks
How does Kansas replace the Morris twins?
Baylor Bears
Perry Jones should blossom for Baylor
Texas Longhorns
Freshmen must lead Longhorns
Butler Bulldogs
Can Butler do it again?
UNLV Rebels
Rice, MWC movement will aid Rebels
Xavier Musketeers
Tu Holloway's moment is here
George Mason Patriots
Pearson should flourish under Hewitt
VCU Rams
Can Rams run deep again?
MORE MEN'S COLLEGE BASKETBALL HEADLINES


MOST SENT STORIES ON ESPN.COM