Commentary
Front-row ACC observations
Walk-ons discuss Coach K, Malcolm Delaney, Miami cheerleaders and more
Originally Published:
October 21, 2010
By
Mark Titus
| Special to ESPN Insider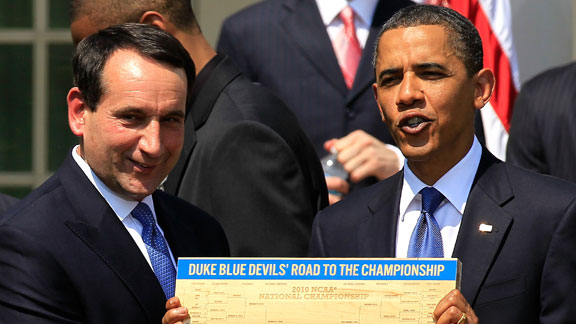 Getty ImagesCould we see this meeting again? It's quite possible.
After looking at the Big East yesterday, today we turn to the ACC.
After being immersed in college basketball for four years, I've realized there are really only two things I ultimately think about the ACC. First, they don't play any defense whatsoever. But the second thing is, they don't need to play defense because they score so many points. Maybe this perception arose from the fact that I played in the Big Ten, where you have to get taken off the court on a stretcher if you want to draw a foul, and the final scores usually look like football scores at first glance.
Nonetheless, the ACC has always struck me as a conference that's loaded with talent -- and because of that, teams don't worry about stopping their opponent, since they know their opponent has no way of stopping them. In the end, it makes for an exciting brand of basketball.
But I'm not interested in hoops that exciting just now. What I want to find out is what the ACC's walk-ons think about the conference's best arenas, benches, understudies and cheerleaders.
For the rest of Mark Titus' breakdown of the ACC, you need to be an ESPN Insider. Sign up today and get access to all of Insider's NCAA preview coverage.
Insider
Club Trillion on ESPN Insider

Mark Titus, a former Ohio State Buckeye (a walk-on from 2006 to 2010), came to renown for writing the blog Club Trillion, billed as "Life views from the end of the bench." His lesser renown comes from holding the school record for the most wins in a four-year career. Seriously. He will contribute on a semi-regular basis to ESPN Insider throughout this college basketball season.
CONFERENCE PREVIEWS
The Big East
Fear the musket -- and the Panthers.
The ACC
Watch out for Malcolm Delaney.
Big 12
Kansas is the team to beat ... again.
SEC
Beware the Florida Gators.
Pac-10
The conference is Washington's to lose
Big Ten
Spartans are sitting pretty
MORE MEN'S COLLEGE BASKETBALL HEADLINES

MOST SENT STORIES ON ESPN.COM