Commentary
Grading the committee and breaking down the bracket
Updated:
March 17, 2008, 6:12 PM ET
By
Jay Bilas
| ESPN.com
It is easy to get up on a high horse and be critical of the work of the NCAA tournament selection committee. But it is important to remember that there is a lot of subjectivity in selection and are a lot of binding rules in bracketing, and that reasonable minds can differ. By and large, I have no complaints with the results, and no complaints with the decisions made by the committee. There was an overall lack of accomplishment on a lot of résumés at the end of the line, and precious few teams can cry foul for being passed over. All things considered, from selection to seeding, the committee did a terrific job.
[+] Enlarge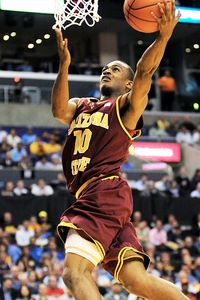 Chris WIlliams/Icon SMIArizona State's schedule was not as soft as Kentucky's.
Committee makeup:
I have been vocal regarding the lack of "basketball experience" on this committee. I hope that is not misunderstood. I am not in any way suggesting that the committee as it is currently configured cannot and did not do a good job. It can and it did. I am saying that we should strive to have a committee that can do the best possible job. I believe that having basketball experience is vital. Anyone can look at numbers and punch them into an equation, and anyone can select the top four seeds. The real work and tough calls come after that, and I believe that basketball experience is invaluable. When there are "basketball people" on the committee (Dave Gavitt, Carroll Williams, C.M. Newton and Stan Morrison, to name a few), their work and expertise is universally praised by the other committee members. Why then would we not want more such experts on the committee? It doesn't mean that the current makeup of the committee (six of 10 without any basketball experience) can't do a good job. We should strive to do the best possible job, not just a good job.
To continue reading this article you must be an Insider
Insider
NCAA Tournament 2008

Get caught up with all the news, notes, insights and analysis from the 2008 NCAA tournament.
Tournament Index
Brackets: PDF | GIF
Analysis
•
Katz: Sneak peek at Sweet 16
•
Forde: Dorsey a confusing, entertaining enigma
•
Low: Vols figuring out unsteady point-guard play
•
Schlabach: Horn, Lee break through at WKU
•
Dinich: Davidson proves it is no one-man show
•
ATR: UCLA wins, Day 3 recaps
•
Katz: Neitzel shoots Spartans into Sweet 16
•
Gene Woj: Trent Johnson nearly costs his team
•
Miller: Tough to stop Cardinal's Twin Towers
•
Griffin: Wisconsin gives vintage performance
•
O'Neil: WVU players embrace Huggs' toughness
•
ATR: The end to IU's tumultuous season
•
Katz: What's on tap for the weekend?
•
Forde: Tampa was awesome ... wish I was there
•
Schlabach: Still can't believe the 'Tampa Turmoil'
•
Schlabach: Siena joins upset party in Tampa
•
Schlabach: USD's Grier no long in the shadows
•
Schlabach: WKU's Rogers hits 'dream' shot
•
Dinich: Curry puts on a show against Gonzaga
•
ATR: Arizona's questions, Pitt and MSU roll
•
O'Neil: Belmont lets Duke upset slip away
•
Griffin: Beasley, Walker team up to down USC
•
Gene Woj: Kentucky's roller coaster ends
•
O'Neil: Xavier survives Dawgs' upset bid
•
Forde: Best case/Worst case scenarios
•
Lunardi: Ranking the teams 64-1
•
Experts: "Best of" lists for tourney
•
Whelliston: Mount St. Mary's honors friend
•
Forde: Bruce Pearl's purgatory
•
Katz: Officiating has had a rough season
•
Gottlieb: Scrutiny on officials higher than ever

•
Katz: Mayo, Love exceed freshman expectations
•
Rittenberg: Baby Boilers lead Purdue to Dance
•
Wojciechowski: Liking Psycho T isn't about race
•
Bilas: Grading the committee and talking snubs

• Regions:
East
|
South
|
West
|
Midwest
•
Forde: Super-sized edition of Forde Minutes
•
O'Neil: Serendipitous storylines fill bracket
•
Katz: Committee chair talks hot topics
•
Wojciechowski: 15 suggestions to improve Dance
•
Dinich: UNC's Tobacco Road to San Antonio
News
•
Curry says he's returning to Davidson next year
•
Ford Field, Reliant raise NCAA tourney to new level
•
UCLA's Mbah a Moute to have MRI
•
Nova's Drummond done for season
•
Vols' Pearl explains decision to start Prince
•
Stanford's Johnson not changing after ejection
•
UConn: Price tore ACL, likely to miss six months
•
Love, Mbah a Moute on mend for UCLA
•
Arkansas' Weems hurts knee, expected to play
Video
•
Vitale: Rounds 1 & 2 MVP

•
Vitale: Round 1 prime-time players

•
Gottlieb: Mid-majors make their mark

•
Lunardi: Video previews for all 65

•
Breaking down the East region

•
Breaking down the West Region

•
Breaking down the Midwest region

•
Breaking down the South region

•
ESPN experts fill out their brackets

Audio
•
Podcast: Bilas looks at Thursday's games

•
Podcast: Gottlieb makes bracket predictions

Strategies
•
Tiernan: "Low-risk" bracket strategy

•
Tiernan: "Medium" bracket advice

•
Tiernan: "High-risk" bracket strategy

•
Tiernan: "Dangerous" bracket advice

Photos
•
Day 4 photo gallery
•
Day 3 photo gallery
•
Day 2 photo gallery
•
Day 1 photo gallery
More
•
Tournament Challenge
|
Bracket Master
•
Insider tourney guide

|
BracketCaster
MORE MEN'S COLLEGE BASKETBALL HEADLINES


MOST SENT STORIES ON ESPN.COM