Commentary
Me, annoying? No way!
Why does everyone -- no, really, everyone, want to take a swing at Chas McFarland?
Updated:
February 11, 2010, 10:53 AM ET
By
Eddie Matz
| ESPN The Magazine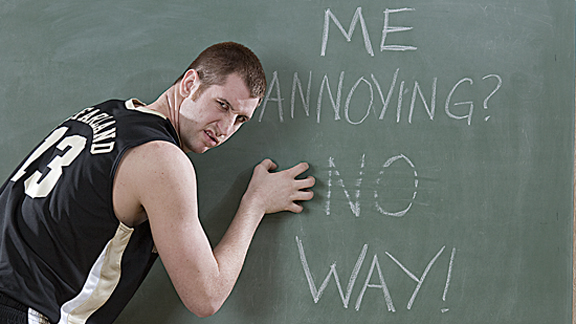 R. Jerome Ferraro for ESPN The MagazineChas McFarland: the lovable dose of Hater-ade for ACC fandom.
This article appears in the Feb. 22 issue of ESPN The Magazine.
Some people are just plain irritating. Chas McFarland is one of them.
Look, he's probably the nicest guy most of the time. But get him on the court, and ... Please direct your attention to the following sequence from a recent game at North Carolina: With less than eight minutes remaining and Wake Forest up by 12, McFarland grabs a defensive rebound. Like pretty much everything the seven-footer does on the hardwood, it's ugly. He jumps -- if you can call it that -- approximately five inches off the floor and lands with a thud, a near impossibility when you've dropped only five inches. After a quick outlet, he lumbers downcourt, an elongated cacophony of limbs and joints, arriving in the lane just in time to see teammate C.J. Harris drain a three from the wing. As the ball drops, McFarland shoves a Tar Heel in the back, then begins to trudge back upcourt, pumping his fist as if he were the one who hit the shot. At halfcourt, he tries to give Harris a midsprint high five or pound -- hard to say which, as he completely whiffs. The whistle blows to signal a Carolina timeout, and McFarland, who's standing at the foul line next to UNC's Deon Thompson, puffs out his chest, tilts his head and does his best Chewbacca right in Thompson's ear. The bellow lasts for four irritating seconds.
To read more about why opposing teams and fans don't like Chas McFarland -- and how this might prove an advantage for the Deacs come tourney time -- you must be an ESPN Insider.
Insider
Insider's Bracket Bundle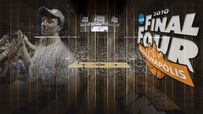 Insider helps college basketball fans stay on top of the NCAA tournament field as it forms.
Joe Lunardi: Behind the Bracket
Insiders get Bracketology details the rest of the public doesn't. See which teams and which games are impacting the bracket, why it's moving and what may happen next.
Lunardi's Tournament Odds/Rundown
Bracketology tells you only how the bracket looks on that day. Lunardi's odds tell you how it's likely to look come Selection Sunday.
Bubble Insider
See which bubble teams are bound to get bounced and which are likely to crack the field of 65.
Inside the Bracket
Hard-core analysis of squads set to endure the Madness of March.
Regional Breakdowns
See how the teams stack up in each region of Bracketology.
Resources
MORE MEN'S COLLEGE BASKETBALL HEADLINES

MOST SENT STORIES ON ESPN.COM