Looking for guards and grit
Originally Published:
December 27, 2005
By
Jay Bilas
| Special to ESPN Insider
Editor's note: Each day from Tuesday to Friday this week, we'll feature one of our experts revealing how he built his prototype team from the groupings provided in the inline below. On Friday, SportsNation will help decide which team is best.
The rules for selecting your team were simple, as was selecting my team when I saw the way players were grouped and ranked. There is no way to have what I would consider to be the best player at each position, but there is a way to get the best
team
based on skill level, toughness and the ability to fit together to make a formidable unit. I looked for one thing first: fiber. I wanted players of substance who understand winning and being a contributing part of a winning team. And I wanted players who value defense and are willing to do the tough things necessary to win.
Here is the team I selected, and why: 1. J.J. Redick, Duke
Although the decision between Adam Morrison and Redick is a tough one, I didn't take much time at all to decide. For me, Redick is the best use of my No. 1 selection. He can run all day; nobody makes a greater variety of difficult shots; and he has incredible courage in tight game situations. Redick is averaging 24.7 points in 36 minutes per game, and every minute is spent on the move. He shoots 49 percent from the floor, 46 percent from 3 and 85 percent from the line, which is incredible considering the physical defense he faces every game. Plus, Redick can get to the free-throw line and stretch a defense farther than almost anyone else in college basketball. He creates openings for others because the opposing coach has to dedicate a defender to stopping him, and if you can't slow him down, that is a major blow to opponents' confidence. 2. Dee Brown, Illinois
I believe that Kentucky's Rajon Rondo is the best point guard in the country but that Dee Brown has the biggest heart. Brown is a winner, and he can will this team to win. Although his will and his heart are his best attributes, he also is an outstanding player. Brown excels in the open court and is as fast as anyone in the open floor. He really pushes the ball in transition and has the motor to keep pushing it. Big guys get rewarded for running with Brown in the game. Brown averages 15 points, three rebounds, 5.3 assists and almost two steals per game. Although he is not lighting it up on a percentage basis, don't be fooled by that (and the computer shouldn't be, either). He is still coming back from a broken foot and has played his best over the last two weeks. Brown is an outstanding on-ball defender who puts great pressure on a dribbler and is constantly moving on offense. A good shooter, Brown also can stretch out a defense, and he can play pick-and-roll basketball with good big men. Brown can run all day, and I never have to take him out. Dee Brown will not fail. 3. Craig Smith, Boston College
Smith was a no-brainer for me. Of the players in the No. 3 pool, Smith provides the combination of toughness, interior scoring and rebounding and defense. Smith, when playing his natural power forward slot, is a very good defender, and he can score and get to the line. He forms a great tandem inside with my center selection. Smith is averaging 16 points and eight rebounds on 56 percent shooting and plays 33 minutes per game. Smith also does a lesser-known thing very well -- he screens. With that big body and a fearlessness regarding contact, Smith will spring Redick, Brown and my other scorers for easier looks ... then he will look for his offense. 4. LaMarcus Aldridge, Texas
Aldridge is the complete package, with the exception of great bulk. He has great hands, reach and touch. An excellent rebounder and shot-blocker, Aldridge also can really change ends. With Brown pushing the ball as he does, and with Redick spotting up wide and Aldridge running the floor, this team will get easy looks in transition.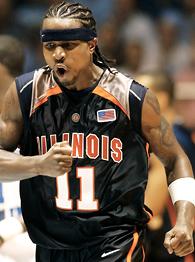 Dee Brown is the tireless engine that runs Bilas' team.

Aldridge is averaging 18 points, 10 rebounds and 2.3 blocks per game, and he shoots 69 percent from the field. Aldridge is improving steadily and is already the best true center in the nation. 5. Hassan Adams, Arizona
Adams is my glue-guy star and the most versatile athlete on the squad. He can really run and finish and puts great pressure on your transition defense with his relentless attack of the rim. Adams can overpower most guards or small forwards he goes against and take them into the post and score or get fouled. He also is a superior offensive rebounder. If it is long or loose, Adams gets it. Adams averages 19 points, seven rebounds and more than two assists per game, while shooting 49 percent from the field. With this team, there will be no need for Adams to take a 3, and he will be free to attack the rim. Adams is also a superior defender, averaging 3 steals per game. He can guard inside or out, and he is athletic enough to hound Morrison ... or anyone else I might assign him to. 6. Arron Afflalo, UCLA
Afflalo is the perfect candidate to come off the bench and be the sixth man of the year with this team. There are games in which Afflalo will be our leading scorer, and when he comes in, there is no drop-off. Afflalo averages 18 points, four rebounds and almost two assists, and he has nailed 28 3s. He shoots better than 50 percent from the floor and 81 percent from the line. He is a deep shooter who can put it on the deck, and he is an outstanding defender who has athleticism and strength. Afflalo is a great fit for this team. 7. Al Horford, Florida
Horford is a big body who can rebound and block shots. He does not need the ball to play, and he knows how to play in an up-tempo system. Steadily improving game by game, Horford is becoming a big-time player. He is averaging 13 points, seven rebounds and almost two assists per game, and he shoots just under 70 percent from the floor and 62 percent from the line. He also blocks almost two shots per game and averages 1.5 steals with his good feet and hands. With Aldridge and Horford, this team has two outstanding big men and two shot-blockers who allow the perimeter defenders to get out and pressure the ball with confidence, knowing there is help behind them. This team won't lose. You will have to beat it. This group has great heart and substance, will defend, and is made up of nothing but winners. The best stat? The combined record of this group is 68-8. Jay Bilas, a college basketball analyst for ESPN, is a regular contributor to Insider.

To continue reading this article you must be an Insider
Insider
EDITORS' PICKS
Arizona bounced back from a slow start and has the lead.
Chat

Notre Dame must be efficient to beat Kentucky.
Brennan »

Rick Barnes has been fired as the coach of Texas after 17 seasons.
Story »
MORE MEN'S COLLEGE BASKETBALL HEADLINES


MOST SENT STORIES ON ESPN.COM