Commentary
Florida slightly favored in CWS final
South Carolina's marathon on Friday gives Gators the edge
Updated:
June 27, 2011, 12:16 PM ET
By
Jeff Sackmann
| College Splits
Statistically, the South Carolina Gamecocks and the Florida Gators are dead even. The adjusted winning percentages that determine the College Splits Power Rankings are a nearly indistinguishable .797 (Gamecocks) and .788 (Gators), meaning that in any single game, South Carolina should have about a 51 percent chance of winning, and in a three-game series, that number edges all the way up to 52 percent. Not the kind of numbers that send you running to your bookie.
[+] Enlarge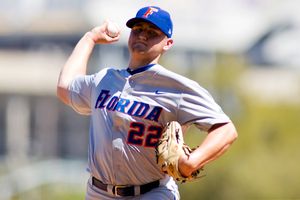 John Korduner / Icon SMIHaving Karsten Whitson available to pitch on full rest in Game 2 is a major advantage for the Gators.
Of course, these percentages are based on an evaluation of the entire 2011 seasons of the two College World Series finalists, and they don't consider factors such as injury, fatigue and specific pitching matchups. Even if the overall stats point in the direction of South Carolina, these additional considerations tilt the scales in Florida's favor -- slightly more than 52 percent. However, the Gators need to strike first. If South Carolina pulls out a win in tonight's opening game, the entire complexion of the series will change.
Game 1
To see why Florida is the slight favorite to win it all, become an ESPN Insider today.
Insider
College Baseball on Insider

Insider has assembled a team to expand college baseball coverage in 2011. ESPN columnists Ryan McGee, Jeff Bradley and draft expert Keith Law are joined by CollegeSplits.com's Jeff Sackmann and longtime expert Will Kimmey in breaking down the top trends and stories each week.
Week of June 27
Week of June 20
Week of June 13
Week of June 6
Week of May 29
Week of May 22
Week of May 15
Week of May 8
Week of May 1
Week of April 24
MORE COLLEGE SPORTS HEADLINES
MOST SENT STORIES ON ESPN.COM